Lauda's Austrian arm is being repositioned as a wet-lease carrier and the Ryanair subsidiary is ending the employment of crew members who did not support a new collective labour agreement, as part of a "survival plan" to secure operations in Vienna.
The airline says more than 330 flying staff members will be retained when operations resume on 1 July, but adds: "Up to 12 pilots and 82 cabin crew who did not accept Lauda's new CLA/T&Cs document dated 28 May 2020 will receive notice of termination of employment at the end of June."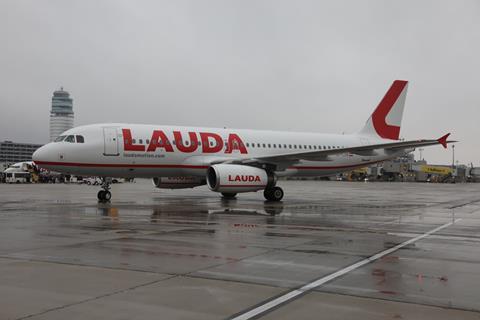 Parent group Ryanair had in May announced the closure of Lauda's Vienna base amid a labour dispute with Austrian union Vida. That decision was later reversed when an 11th-hour agreement was reached.
In a statement earlier this month, the airline said pilots and flight attendants had made "heroic efforts… which persuaded the Vida union to accept Lauda's new CLA".
Despite the new labour terms, Lauda says it still faces "substantial challenges" and cites a €600 million ($670 million) financial support package for Lufthansa subsidiary Austrian Airlines which the German group agreed with Austria's government.
"A range of survival measures necessary to face post Covid-19 competition with [Lauda's] German-owned airline competitor [Austrian]," Lauda argues.
As part of the measures, it says it will "become a wet-lease operator for other airlines", noting that "the Lauda brand will continue in Vienna".
On 16 June, Ryanair disclosed that it would take over responsibility for Lauda flights from Dusseldorf and Stuttgart, and employ Lauda's operations in the two German cities to conduct the services on a wet-lease basis until October.
Lauda's German branch and Ryanair sister carrier Malta Air, which operates bases at other German airports, are also in labour talks with the local Verdi union.
The airline says that "crewing needs" at Lauda's bases in Dusseldorf, Stuttgart and on Spanish island Majorca are "under review".
Lauda has capped its entire Airbus A320 fleet at 30 aircraft – eight fewer than previously planned – and says future deliveries have been cancelled, while leases on existing aircraft are being renegotiated. The carrier's Vienna-based fleet will be limited to 10 aircraft rather than 16.
As a result of the coronavirus crisis, Lauda estimates that the number of passengers travelling on the carrier's entire fleet in 2020 will be half its previous target of 10 million.