A bipartisan group of lawmakers have proposed a second coronavirus relief package that would provide airlines and airports with another round of pandemic-relief funding.
The deal has not been finalised, according to reports.
Notably, it includes an extension of the so-called Payroll Support Programme, which helped airlines avoid layoffs earlier this year, according to a summary of the agreement.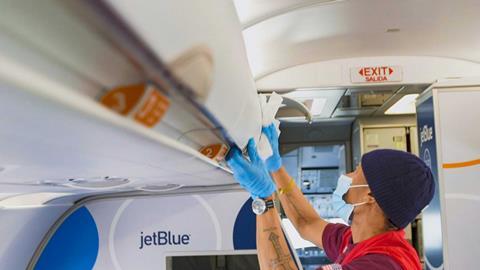 It would extend the payroll aid until 31 March 2021. The US government would require airlines to use the funds pay "frontline aviation workers' wages, salaries and benefits", says the summary, provided to FlightGlobal by the US Travel Association.
The previous Payroll Support Program expired at the end of September. Since then, US airlines have laid off staff while urging lawmakers to pass a second round of assistance.
The summary does not specify how much money would be set aside for airline payroll support, though the first round of funding provided $29 billion.
The deal also calls for aid to airports and airport concessionaires, and funding to support small-community air service.
"This relief proposal package is wisely responsive to specific needs outlined by industries that are struggling to keep their doors open and retain employees," says the US Travel Association. "It's been a long and hard road to see a deal, and while more will ultimately be necessary, this framework can position the US economy for a stronger recovery if it survives the next stages."