US lawmakers have introduced a bill to subsidise production of sustainable aviation fuels (SAF), with supporters describing the measure as key to helping airlines achieve carbon neutrality by 2050.
The "Sustainable Skies Act", backed by Democrats and introduced to the House of Representatives on 20 May, is part of a broader effort by the administration of President Joe Biden to address climate change.
The bill would offer a tax credit of up to $2 per gallon (3.79l) to biofuels producers.
"Implementing sustainable aviation fuels is the single most-important step the aviation industry can take to combat climate change," says Illinois representative Brad Schneider, who introduced the measure. "The Sustainable Skies Act will halve carbon emissions while also enabling more travel and commerce, a win-win for Americans today and our future generations."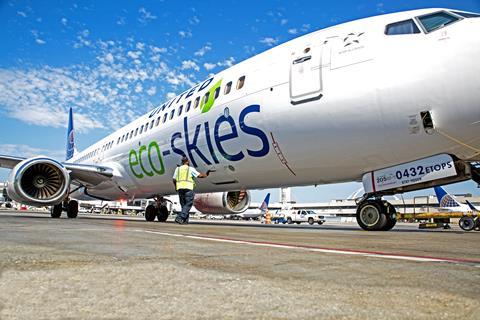 These fuels can be made from renewable sources such as forest floor debris, old clothes, cooking oil or municipal garbage. SAF can reduce life-cycle carbon dioxide (CO2) emissions by up to 80% compared to conventional jet fuel, according to IATA. More than 40 carriers worldwide have begun using this type of fuel to help shrink their carbon footprint.
But broader use of sustainable aviation fuels has so far been hindered by limited supply and high cost – the fuels are three to five times more expensive than conventional jet fuel.
Aviation trade groups welcomed the proposed legislation, saying the bill incentivises development, production and use of the alternative fuels – and will make them commercially viable in the foreseeable future.
"This important legislation is key toward the business aviation community's aggressive work to meet its sustainability objectives," says Ed Bolen, chief executive of the National Business Aviation Association (NBAA). "The dedicated blender's tax credit will be a game-changer, and NBAA will leverage our advocacy resources to support the bill."
Airlines for America (A4A) says the bill will "spur the production of SAF and help the US airline industry reach its goal of eliminating net carbon emissions by 2050 while also supporting US jobs and energy security".
"The Sustainable Skies Act would go a long way toward improving the cost-competitiveness of sustainable aviation fuel, which is crucial to rapidly expanding its deployment by US carriers," says A4A chief executive Nicholas Calio.
A4A's declared commitments include a ramp-up of SAF production to make 7.6 billion litres (2 billion US gallons) available to US carriers by 2030. That would require an 84% average increase in production for each of the next 10 years.
US carriers have launched projects to reduce greenhouse gas emissions. Last month, United introduced its "Eco-Skies Alliance", a programme through which it will allow customers and corporate partners to invest in SAF.
Other carriers including Delta Air Lines, JetBlue Airways and FedEx have announced wide-ranging greenhouse gas reduction programmes. Such efforts include plans to increase SAF use, implement carbon capture and sequestration technology and participate in carbon offsetting schemes.