China's HNA Group has selected Chinese conglomerate Liaoning Fangda Group Industrial as a strategic investor for its aviation assets, which include flagship unit Hainan Airlines.
The emergence of Liaoning Fangda as a likely lifeline ends a search that began nearly half a year ago, after the beleaguered group received court approval to merge 321 related companies into a single entity for restructuring purposes.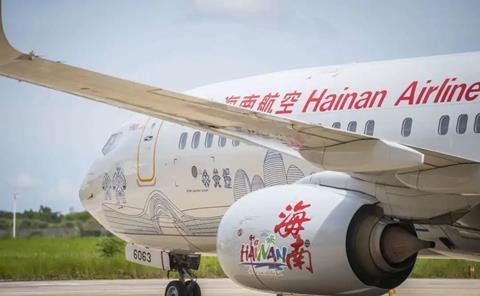 In a stock exchange disclosure dated 13 September, Hainan Airlines says a draft reorganisation plan has been drafted together with Liaoning Fangda, and must be approved by the Chinese court.
If the court gives the go-ahead, Liaoning Fangda stands to be the controlling shareholder of HNA Group's aviation businesses.
Liaoning Fangda is a conglomerate with wide-ranging interests. Data from Bloomberg shows the Beijing-based company was founded in 2000.
According to the company's website, its subsidiaries, which span across 20 provinces and regions in the Chinese mainland, include listed companies Fangda Carbon New Material, Northeast China Pharmaceutical Group, as well as Fangda Special Steel Technology.
It has been previously reported that other firms considering a bid included a joint-venture between Shanghai AJ and Shanghai-based carrier Juneyao Air, as well as Yuyuan Aviation Industry Partnership, which has the backing of another Chinese conglomerate Fosun International.
HNA Group, which once had interests in areas such as aviation, technology, and property, received formal notice in late-January that creditors had filed for its bankruptcy, on grounds that it was unable to pay off its debts.
The group was already struggling as early as 2018, when it was reported that it was facing a liquidity crunch and mired in debt. The coronavirus outbreak dealt the HNA Group a further blow and by February 2020 it threw in the towel, seeking help from the Hainan provincial government.
On 15 March, the Hainan High People's Court ruled that the merger of 321 airline and aviation-related entities would also ensure "fair compensation" to all its creditors, and help speed up restructuring efforts.