South Florida start-up carrier Global Crossing Airlines (GlobalX) reported a modest first-quarter loss of $6 million as long turnaround times for heavy maintenance kept some of its aircraft grounded throughout the period.
GlobalX posted a $4.8 million loss during the same three months of 2022.
The Miami-based carrier said on 10 May that revenue for the quarter was $32.2 million, up from $16.4 million last year.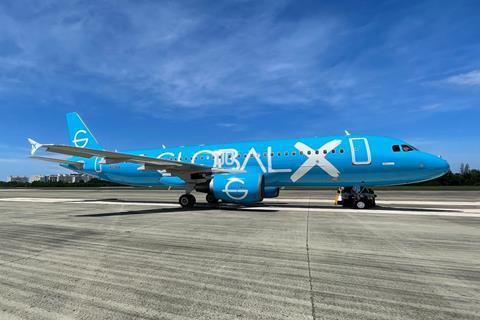 Ed Wegel, chief executive of GlobalX, said that the company "performed exceedingly well in a tough operating environment with continued delivery delays of aircraft out [for] heavy maintenance and the deferral of certain government contracts".
Specifically, the carrier says it lost some $6 million during the quarter due to the deferral of a "major US government contract" from January to May.
GlobalX adds that "significant scheduled maintenance" resulted in "reducing the effective fleet by two aircraft" every month during the first quarter. However, the company anticipates a much lighter aircraft maintenance schedule during the second half of 2023.
'HEAVY FLYING SCHEDULE'
Of the charter operator's quarterly accomplishments, Wegel says: "We finished all requirement for the major certifications we need to continue to grow, started revenue cargo operations, and built the infrastructure of people and systems to fly a very heavy flying schedule for the second half of 2023 – specifically, adding over 25 pilots and 36 flight attendants."
GlobalX has already signed contracts to fly 12,827 block hours this year – and expects to add 10,000 more hours, subject to aircraft deliveries – compared with the 10,615 block hours the carrier flew in 2022.
Also during the quarter, GlobalX signed agreements to operate its aircraft on behalf of TUI Fly Netherlands, Allegiant Airways and Red Way, a new low-cost carrier based in Lincoln, Nebraska. It also received approval to operate freighters in the USA, and launched cargo service with its first Airbus freighter earlier in the year.
"The company remains very bullish on 2023 with its cargo certification completed and its first freighter having started revenue operations in the first quarter," Wegel says. "The company is also expecting the delivery of the second freighter in late May, which will be operating in June."
Operating a fleet of leased Airbus aircraft, GlobalX started carrying passengers on charter flights in August 2021 and has since expanded aggressively.
In April, GlobalX took delivery of its seventh jet for passenger flights.
"Assuming all… aircraft are delivered, GlobalX will be operating 12 passenger series aircraft and six freighters by the end of the 2023," the airline said in April.
GlobalX estimates that it will generate $140 million in revenue for 2023, based on a fleet of nine passenger jets and two freighters – a nearly 70% year-on-year revenue increase.
The company had $7.2 million in cash and cash equivalents as of 31 March, compared with $11.9 million on the same date of 2022.