A teacher at a Los Angeles area high school has sued Delta Air Lines following a fuel dump from a Delta jet experiencing engine trouble after departing Los Angeles International airport in January.
The teacher at Pioneer High School claims in the suit she was "involuntarily coated with jet fuel which penetrated her skin, mouth and nose" during the incident on 14 January.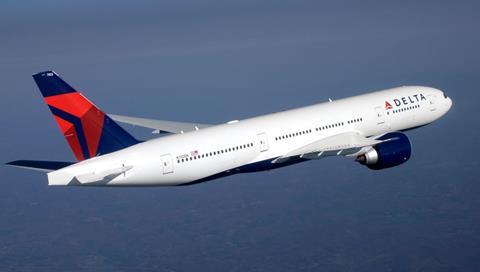 "As a result, she experienced an allergic reaction, causing swelling and irritation to her throat and upper respiratory system," the McNicholas & McNicholas law firm writes in a statement on 11 March. "In addition to the physical damage caused by the Delta pilot's negligence, the plaintiff suffered severe emotional distress from the knowledge and fear that she may now be at risk for long-term health issues – including cancer – as a result of this toxic exposure."
The firm did not quantify the amount of the lawsuit.
On 14 January, one of Delta's Boeing 777-200s dumped fuel over a Los Angeles neighborhood as it was returning to the airport after declaring an emergency, slightly injuring children and adults who were outdoors on a school playground.
Shortly thereafter, flight DL89, which had been headed for Shanghai, landed without incident back at Los Angeles. The aircraft had 149 people on board.
The lawsuit contends the aircraft crew violated policies around releasing fuel safely. The aircraft was only about 2,000ft above the ground when the fuel dump took place.
"Delta and its flight crew for Flight 89 had a duty to notify air traffic control of any need or intent to dump jet fuel during a flight, and were aware of or should have been aware that the aircraft was too low to safely dump fuel," says Matthew McNicholas, a partner at the firm. "This incident brings into question whether this negligence extends into Delta's policies and protocols."
The Federal Aviation Administration opened an investigation into the incident.
"There are special fuel-dumping procedures for aircraft operating into and out of any major US airport. These procedures call for fuel to be dumped over designated unpopulated areas, typically at higher altitudes so the fuel atomises and disperses before it reaches the ground," the regulatory body said at the time.
According to FlightAware.com, the aircraft had reached a maximum altitude of 7,800ft before it returned to Los Angeles.
Atlanta-based Delta did not respond to requests for comment on the lawsuit.