Kenya Airways' losses tripled to KShs36 billion ($325 million) for the 12 months to December 2020, a year in which pandemic disruption led to passenger levels falling to their lowest level since 1999.
The SkyTeam carrier reports revenues during the year slumped 58.8%, to KShs52.8 billion, reflecting a 65% fall in passenger numbers to 1.8 million. Kenya Airways carried around 70% of these passengers in the first quarter, before the pandemic fully hit.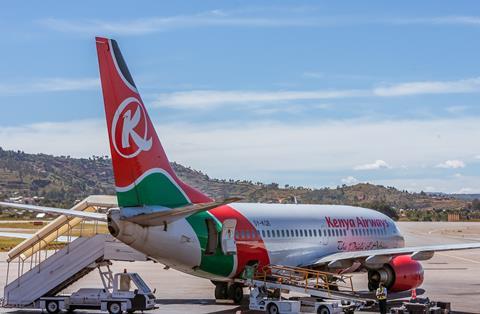 While the airline cut costs during the year by 38.5%, these still stood at almost KShs80 bilillion. As a result, Kenya Airways posted an operating loss of just over KShs27 billion in 2020, compared with a loss of KShs2 billion the previous year.
The airline's attributable full-year losses increased from KShs13 billion to KShs36.2 million, while hedging losses dragged it to a comprehensive loss of KSh46 billion for 2020.
Kenya Airways chairman Michael Joseph says:"The Covid-19 outbreak was beyond anyone's prediction and its impact on the industry is expected to continue affecting air travel demand for the next two to three years, during which time, the industry projects demand to remain at levels significantly lower than 2019.
"During this time, Kenya Airways will ensure that it operates the right-sized network," he adds. "We have taken bold and proactive measures to protect our people and our guests as we restructure our business to position ourselves for recovery."
Kenya's government last summer introduced plans to renationalise Kenya Airways under its Kenya Aviation Management Bill, legislation which would create a joint holding company also including the Kenya Airports Authority. But the bill has faced several delays during the legislative process and is still to be passed.