With US regional airlines struggling to fill cockpit seats, Envoy Air, Piedmont Airlines and PSA Airlines are each offering $100,000 signing bonuses to attract qualified pilots.
The three airlines – all subsidiaries of American Airlines – are offering the bonuses for pilots who accept conditional job offers between 15 November and the end of the year.
Texas-based Envoy is offering $100,000 bonuses to qualified first officers with more than 950 flight hours and $75,000 bonuses for pilots who have between 500 hours and 950 hours flying under the FAA's Part 121 rules, meaning, regularly scheduled commercial service.
"As we continue to grow, Envoy places massive importance of recruiting and retaining the best pilots in the industry," Ric Wilson, Envoy's vice-president of flight operations, said on 15 November. "As a result, there has never been a more lucrative time to be an airline pilot."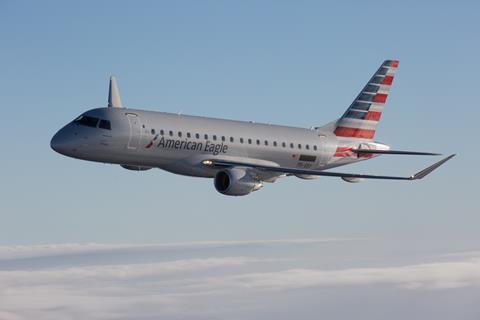 The US airline industry is short some 8,000 pilots, resulting in losses of air service throughout the country, the Regional Airline Association (RAA) said on 10 November. The pilot shortage has resulted in diminished or lost air service at 76% of US airports since October 2019.
"We now have more than 500 regional aircraft parked without pilots to fly them and an associated air service retraction at 324 communities," says Faye Malarkey Black, RAA's chief executive. "14 airports have lost all scheduled commercial air service – a number that is still rising."
"We are on the precipice of a wholesale collapse of small community air service," she adds.
In response, Maryland-based Piedmont is offering "$100,000 up front to pilots who can sit in the left seat of the flight deck and $75,000 to pilots who are close to upgrading to captain", the airline says.
The bonuses are paid the day before training for pilots in class by 1 March 2023, and replace Piedmont's current retention bonuses, which are paid over a five-year period.
"Passengers are back, and the demand for travel is high, but our industry hasn't settled into a steady state yet," says Eric Morgan, Piedmont's chief executive. "Piedmont has the opportunity to grow even as many other airlines are shrinking. We are in a unique position to say to pilots 'come to Piedmont, help us expand our fleet and our routes, and here's a big check to spend while you do it.'"
PSA, headquartered in Ohio, is also offering $100,000 to pilots with more than 950 hours flying Part 121 or Part 135 - charter service - with direct-entry captain wages ranging from $146 to $210 per hour.
Each of the subsidiary airlines also offer incoming pilots a pathway to eventually moving on to American Airlines.