Lufthansa and its main flight attendant union UFO have reached a deal on savings and committed to building a "constructive social partnership" after acrimony over recent years.
UFO disclosed late on 24 June that under the "crisis and security package" agreed earlier in the day, the airline had pledged four-year protection against compulsory redundancies for cabin crew.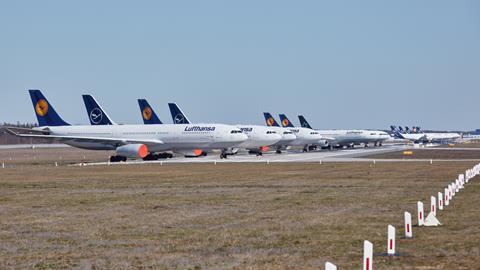 The union, for its part, agreed to estimated savings of more than €500 million ($560 million) by the end of 2023, a "large part" of which will come from "voluntary measures", it says.
UFO chairman Daniel Flohr states: "[Lufthansa's] announced job cuts will not only work without layoffs in the cabin, UFO and Lufthansa are now demonstrating a responsible ability to reach consensus and act after years of violent arguments."
Earlier this month, Lufthansa said that 22,000 full-time jobs across the group will be cut as the airline rebuilt its post-crisis operation with a smaller fleet.
Flohr says that "from now on we will work together on a number of topics that have arisen in the conflict-laden past without constraint".
Lufthansa labour director Michael Niggemann meanwhile describes the accord as "a sign of a regained and constructive social partnership with the UFO" and an "important signal for our employees [and] shareholders" ahead of today's extraordinary general meeting, during which shareholders are voting on a €9 billion financial support package from a German federal fund.
UFO notes that Lufthansa has yet to agree savings packages with its other two main unions – pilot body Vereinigung Cockpit and service sector union Verdi.
Lufthansa Group chief executive Carsten Spohr previously said he wanted to agree savings with all three unions before the shareholder meeing.
Nicoley Baublies, UFO's chief negotiator, foresees that "the coming months will be very challenging for us as social partners". But he states: "With this package and the other solutions we have found together, we are finally putting our social partnership on a new footing."