Lufthansa Group will remain grounded throughout the summer and does not expect a new market "balance" to be found until 2023, chief executive Carsten Spohr will tell the company's annual general meeting on 5 May, in a speech pre-released on its website.
Even in 2023, the carrier believes that passenger demand will be significantly below pre-Covid 19 levels.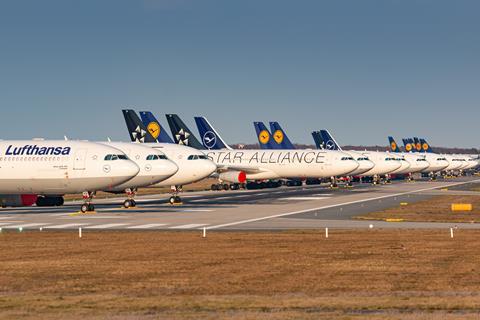 "We are fighting for the future of this company and the future of the roughly 130,000 employees of the Lufthansa Group," Spohr will tell shareholders. "In less than 65 days, we have returned to the levels of 65 years ago in terms of air traffic volume."
Adapting to a significantly smaller market, Lufthansa will remove older, less environmentally sustainable aircraft, reducing the fleet by around 100 jets, and is negotiating with manufacturers to postpone deliveries of new equipment.
Such cuts will leave the group with around 10,000 excess staff, opening up the possibility of large-scale redundancies. Lufthansa is terminating its Germanwings unit two years earlier than planned, and will reconfigure its Eurowings subsidiary. It's cost-cutting programme will also be intensified.
"In order to remain competitive, we want to hold the Lufthansa Group and European airline group together, whatever the scenario. That is our overarching goal," Spohr will say. "If we want to compete globally against the three major airline groups in the USA, China and the Gulf region, then we will only be able to do so as a European airline group."
Lufthansa continues to negotiate with the German, Belgian and Austrian governments. Switzerland's government has agreed financing assistance, though the package is yet to be approved by parliament.
Fixed costs for staff, aircraft, fuel hedges and material mean that for operations alone the carrier is currently burning through around €1 million ($1.1 million) per hour. Around 700 of the carrier's 760 aircraft are grounded, and passenger levels are "at best" 1% of last year's number. "We have practically no earnings," Spohr notes. "The preliminary figures show a loss of €1.2 billion for January to March, and the second quarter will be even worse."
To shore up cash the carrier is cancelling its annual dividend, while management and the executive board are waiving part of their remuneration. Around 80,000 Lufthansa staff are working reduced hours. Painful those these measures are, "it is an indispensable contribution to securing our liquidity", Spohr will say.
Demand for cargo flights is the only bright spot, prompting Lufthansa to remove the seats from four Airbus A330s so that they can be used for freight operations.