Fleet adjustments and the failures of other airlines are likely to offset the impact of an accelerated fall in demand from business travellers in the coming years, according to Lufthansa Group chief executive Carsten Spohr.
Predicting that "10-20% of… corporate travellers will not return" to air travel post-pandemic amid the rise of online conferencing in particular, Spohr noted during a full-year results briefing today that the group's passenger mix was shifting towards "private" travellers already in the lead-up to the pandemic.
Indeed, going into the crisis, "we had 30% of corporate travellers on board our aeroplanes", Spohr states, with leisure and other private travellers making up the remainder. While that 30% accounted for 45% of revenue, those figures had been trending downwards "over the past years".
Spohr is therefore not unduly concerned by an accelerating trend away from high-yield corporate travel, saying that in the coming years, "many other things will happen" to offset its impact.
Among them, "the largest aircraft in the Lufthansa Group will be taken out", he states, citing Airbus A380s, A340-600s and Boeing 747-400s. That means it will "have smaller cabins to fill, which usually helps the yield", he states.
At the same time, "I'm very convinced not all airlines will survive this crisis", Spohr continues. The likely "passive consolidation" in the airline industry means "competitors fading away", increasing opportunities for Lufthansa Group to take a greater market share.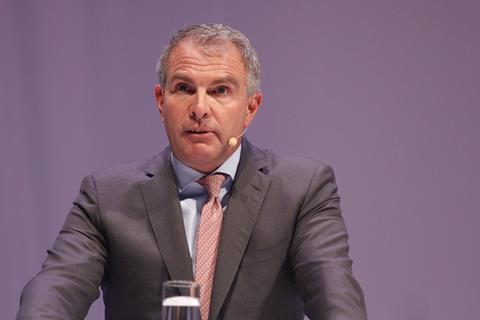 He cites South Africa as one example, where struggles experienced by flag carrier South African Airways mean Lufthansa Group is unlikely to face the same level of competition for passengers as it did pre-crisis.
In the meantime, amid signs of shifting priorities towards leisure markets, Lufthansa recently announced 20 new destinations from its Frankfurt hub and a further 13 from Munich, focused on the Canary Islands, the Caribbean and Greece.
The group is also beginning long-haul leisure flights in June with its new Eurowings Discover unit – launched under previous name Ocean – using Airbus A330 jets.
The new unit's first destinations will be Anchorage, Mombasa and Punta Cana, and it might also expand into short-haul flights in the coming months, Lufthansa states.
Eurowings Discover is based on the model of Swiss' low-cost leisure unit Edelweiss, according to Spohr.
In filing a full-year 2020 net loss of €6.7 billion ($8 billion) today, Lufthansa Group said it expects to return to around 90% of pre-pandemic capacity by 2024.