While many of the fundamentals underpinning the strong financial performance of air freight have been driven directly or indirectly by the pandemic, Lufthansa Group chief executive Carsten Spohr still sees demand remaining strong even as passenger activities recover.
The importance of air cargo was evident in Lufthansa Group's third-quarter results published yesterday, in which its air freight business was the stand-out performer. Lufthansa Cargo recorded a €301 million ($359 million) adjusted EBIT profit for the three months ending 30 September 2021 – a record for the division and comfortably Lufthansa's most profitable business during the quarter.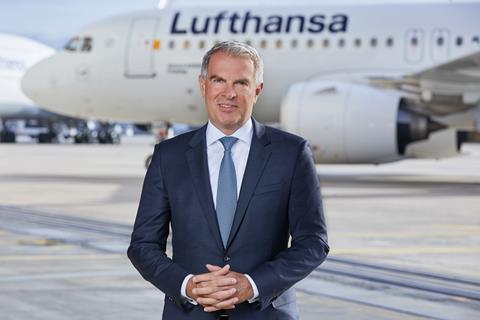 Lufthansa Cargo reported a 37% jump in traffic revenues for the quarter to €2.4 billion, driven by higher sales in all regions and historically high yields.
Much of the strength in air cargo since the crisis hit has been a result of the shortage of belly capacity as passenger aircraft were taken out of service.
However, air freight volumes and yields remained strong in the third quarter, even as passenger capacity began returning at higher levels.
Lufthansa itself was at around half of pre-crisis passenger capacity levels in the third quarter and sees this rising to over 70% next year. Asked about the possible impact of this on air cargo demand during a third quarter results call on 3 November, Spohr noted the increase in passenger demand does not necessarily equate to a direct jump in belly capacity as many aircraft were already flying routes which were profitable from cargo alone.
"We had very many flights to the US with hardly any passengers because the cargo paid for the flight, so there is not that much extra metal going on to the North Atlantic in our case. It is just now finally filling up in the upper level of the aircraft," he says.
Similarly, while there is demand for new or converted freighters to capitalise on demand, Spohr does not think these will enter the fleet fast enough to have a major impact – especially as existing aircraft exit cargo service.
"It seems like every old freighter aircraft has been brought into service during Covid," he says. "These aircraft will not fly forever. They will have to go back probably to the scrapyard. At the same time, only Boeing is really building [cargo] aircraft at this time and you know how low their production rate is [at the moment]. So there is no way this will bring the aircraft into the market that quickly and some old aircraft need to be retired after Covid."
Likewise, while there is heightened interest in passenger-to-freighter conversions, he does not see this changing the supply situation in the near-term.
"These conversions that the industry looks at, they will take a lot of time. They need to be certified, they can only happen in a few MRO facilities that are certified to do that," he says. At the same time airlines are also converting back to passenger configurations aircraft that have been temporarily repurposed for cargo missions during the crisis.
"We at Lufthansa have just converted the last freighter to passenger. I think [others] will do that because everyone needs the aircraft again for passengers. So initially I think we may even see the opposite effect."
Meanwhile, on the demand side, he says cargo customers see demand staying strong.
"They expect it to last at least until the end of 2022. Then put e-commerce on top, where customer behaviour has changed more dramatically since Covid, that makes us very bullish on cargo."
Spohr, who headed Lufthansa Cargo before taking the helm of the airline group in 2014, adds: "Long term it's a more complex story. Not so much on the supply side, but on the demand side.
"It's very difficult to forecast cargo demand and I think we have to be honest, what we are seeing right now will not stay forever. We are seeing yields sometimes of more than €10 per kilo – you are making a lot more money on kilo per cargo than kilo passenger right now. Is that a long-term trend of the industry? Probably not to that degree."