Lufthansa Group has finalised the sale to private equity firm Aurelius Group of the remaining part of LSG Group, completing the divestment of its catering business.
The Star Alliance carrier initially sold LSG Group's European business activities to Gategroup in 2019 and then struck a preliminary agreement to sell the remainder of LSG to Aurelius in April this year.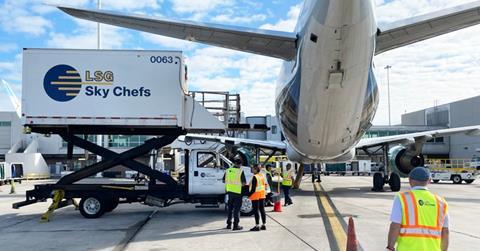 The sale, formally completed on 31 October, comprises all the group's classic catering activities along with its on-board retail and food commerce businesses. It includes a total of around 19,000 employees worldwide and 36 joint ventures across the globe. LSG generated revenues of just under €2 billion ($2.2 billion) in 2022.
No purchase price has been disclosed for the deal.
Lufthansa chief financial officer Remco Steenbergen says: "In the Aurelius Group they now have a new owner who can provide new input and ideas, and who will continue to invest in the catering business segment. And I am particularly delighted that, as our partner for our on-board product and our service concepts, the LSG Group will continue to play a vital role for the guests of our group's member airlines."
The sale fits in with Lufthansa Group's aim to focus on its primary air transport business. In June, it divested its specialist corporate travel payments subsidiary AirPlus Servicekarten to the Swedish financial institution SEB Kort Bank.
"Following the agreements earlier this year on the sale of AirPlus and on our acquisition of an equity holding in ITA [Airways], this closing on the sale of the LSG Group is further confirmation that we are consistently pursuing our strategy and, in doing so, are driving our group's transformation," says Steenbergen.