Lufthansa has confirmed it has submitted a joint bid with Swiss shipping firm MSC Group for a stake in ITA Airways, though will not be drawn on reports the partners are looking to take a combined 80% holding in the new Italian carrier.
In January, the German airline disclosed it had teamed with MSC, jointly submitting an expression of interest to acquire the majority of ITA, which began operations last year after Alitalia ceased flights.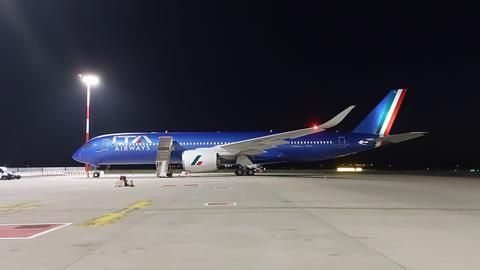 "The Lufthansa Group and the shipping company MSC have submitted a joint bid in the sale process of the Italian airline ITA Airways," Lufthansa says. "The offer was submitted on time on 23 May. Lufthansa and MSC are not commenting publicly on the specific contents of the offer."
Reports suggest Lufthansa will look to take a 20% stake in ITA while MSC will hold a 60% shareholding under the joint offer; the remaining 20% would be held by the Italian state.
Italy is still to confirm how many firm bids were received by the 23 May deadline, but Italian daily Corriere della Sera reports the only other firm bid came from private equity firm Cetares. The latter is reported to be working with SkyTeam partners Air France-KLM and Delta as part of its offer.
Both Air France-KLM and Delta, long-term partners of Alitalia, have indicated interest in co-operating with ITA.
"Of course we look at it very closely with our partners," Air France-KLM chief executive Ben Smith said in Feburary when asked about the Italian market, though added: "We have other means of participating in equity consolidation which may not involve direct investments on our part."
Air France-KLM is restricted to acquiring no more than 10% of another airline under terms attached to the granting of up to €4 billion in state support granted during the pandemic. However, the group recently announced a capital increase aimed at repaying state aid. Air France-KLM was a former investor in Alitalia a decade ago.