Lufthansa Group is reporting a significant surge in air travel bookings and predicting positive cash flow in the second quarter of 2021 thanks partly to its restructuring.
The company, which lost €1.1 billion ($1.3 billion) before interest and taxes in the first quarter, now expects to reach an 8% profit margin in 2024, Lufthansa says on 14 June.
"As the roll-out of vaccination programs accelerates and with travel restrictions being progressively eased globally, bookings across the group's airlines have increased significantly," Lufthansa says.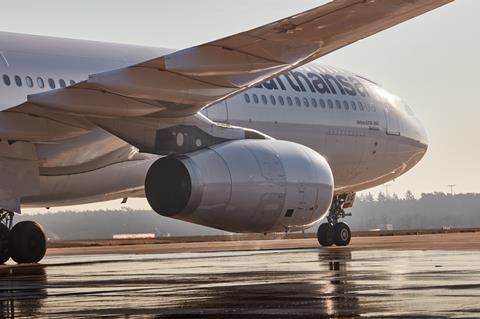 The company's bookings in May and early June were double March and April levels. Lufthansa expects in June to carry 30% as many passengers it carried before the pandemic, climbing to 55% in August.
"Demand is particularly strong for European leisure destinations around the Mediterranean Sea, as well as leisure long-haul markets where there are only limited or no travel restrictions", the airline says. "Supported by the acceleration of bookings, the group expects operating cash flow to be positive in the second quarter of 2021."
Lufthansa embarked amid the pandemic on a restructuring that the company says will save it €3.5 billion by 2024.
The plan involves shuttering Lufthansa's SunExpress Deutschland affiliate, discontinuing "passenger flight operations" at subsidiary Germanwings and closing "multiple other bases and sites".
Lufthansa has reduced its workforce by 26,000 employees since the pandemic started. The airline had 138,000 staff at the end of 2019.
Lufthansa will also save money through "harmonisation of aircraft maintenance and other operations processes," and by information technology changes, including a 50% reduction in "systems for flight and ground operations", it says.
Additionally, Lufthansa's restructuring involves slashing 30% of its office space, renegotiating "key supplier contracts" and eliminating some consulting and marketing services.
The moves are aimed at "preserving cash, strengthening liquidity, reducing costs and accelerating the group's transformation", the company says.