Lufthansa Group will cancel 33,000 flights in January and February due to a sharp decline in bookings as a result of the rapidly-spreading Omicron variant of Covid-19, the company's chief executive has said.
In addition, Carsten Spohr tells a German newspaper on 23 December that it is forced to carry through 18,000 other "unnecessary" flights during the winter in order to secure its slots at European airports.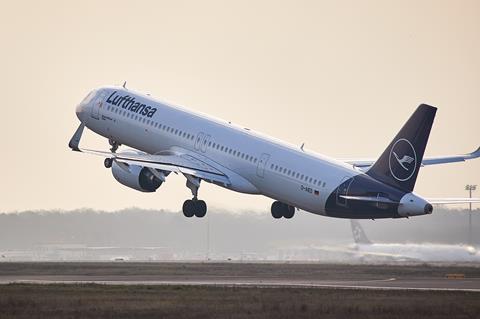 "In the autumn we were pleasantly surprised at how well our business started again. But from mid-January to February we are indeed seeing a sharp drop in bookings," Spohr tells the Frankfurter Allgemeine Sonntagszeitung. "We therefore have to cancel 33,000 flights or around 10% in the group during the winter flight schedule."
"Due to the weak demand in January, we would have cut significantly more flights. But we have to make 18,000 additional, unnecessary flights in winter just to secure our take-off-and-landing rights," he says.
The carrier group - which includes Swiss, Austrian Airlines, Brussels Airlines and Eurowings - is suffering under the lack of passengers in its home markets of Germany, Switzerland, Austria and Belgium, Spohr adds, as these countries are currently in the throes of another spike in coronavirus infections.
Earlier this year, the European Commission set a 50% slot usage threshold for the winter 2021 season. That means that an airline must use at least half of its assigned slots at around 100 slot-constrained airports across the continent so as not to lose them. Under normal circumstances that number would be 80%.
Airlines are always keen to hold on to what are often expensive assets that give them network-planning certainty. But as the Covid-19 crisis continues into its third year, and with travel nowhere near 2019 levels, they have argued that its devastating impact means the 80:20 "use it or lose it" rule is unworkable, with a much lower threshold being appropriate.
At the beginning of the global pandemic in early 2020, airlines were harshly criticised for continuing to operate "ghost flights" with near-empty aircraft in order to keep their slots for when business returned. Authorities around the world then introduced relief measures that would not penalise the carriers.
In addition to the thousands of cancelled flights in early 2022, Lufthansa is contending with higher-than-usual illness in its cockpit crew ranks. It was forced to strike several transatlantic flights between now and the end of the year, as well as one round-trip to Japan, German media report.
Lufthansa Group had said earlier it expected reach around 60% of its pre-crisis capacity levels in the fourth quarter of 2021, and to operate at above 70% of 2019 levels next year. The group expects to remain cash-positive in the fourth quarter of 2021.