Lufthansa Group has repaid the last tranche of government aid it received during the Covid-19 crisis, clearing the way for the German state to sell its remaining stake in the business.
The operator says "rising demand for air travel, the fast restructuring and transformation of the Lufthansa Group and the capital markets' confidence in the company" meant it was able to complete the repayments "much earlier than originally planned".
Lufthansa drew down a total of €3.8 billion ($4.3 billion) from the €9 billion available to it as part of the German government's rescue package, it states.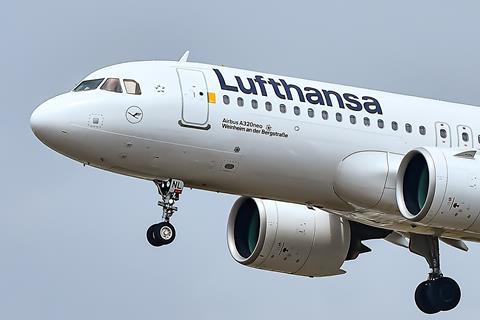 The final piece of the jigsaw was the €1 billion Lufthansa received from Silent Participation II of the Economic Stabilisation Fund (WSF) of the Federal Republic of Germany, which has been "repaid in full" as of 12 November, while undrawn funds have been cancelled.
That repayment target was a driver behind Lufthansa's €2.14 billion capital raise that closed in early October, which it said would also strengthen the group's equity position.
Lufthansa repaid Silent Participation I in October 2021 – having drawn "only" €1.5 billion – with the undrawn funds terminated. In February 2021, the company repaid a state loan of €1 billion, again "earlier than expected".
With all government loans and "silent participations", including interest, repaid or terminated, the German state will now sell its stake in Lufthansa Group – which amounts to around 14% of the share capital – by October 2023.
The WSF acquired a 20% stake in Lufthansa in June 2020 as part of support measures to help counter the impact of the pandemic. They included €5.7 billion in potential silent contributions to the carrier and €300 million through the acquisition of the 20% stake. The German state also provided a loan guarantee for a further €3 billion.
The WSF had already announced it would sell around a quarter of its stake in August this year amid Lufthansa's improving financial outlook.
Lufthansa Group revealed on 3 November that it had recorded its first positive adjusted operating profit during the pandemic for the third quarter of 2021.