German carrier Lufthansa is continuing negotiations for a €9 billion ($9.7 billion) support package from the German government's Federal Economic Stabilisation Fund (WSF) as it bids to reach agreement on the future state role.
Lufthansa Group had on 23 April first disclosed it was holding financing talks with the home governments of its various airline units to secure liquidity to see it through the coronavirus crisis.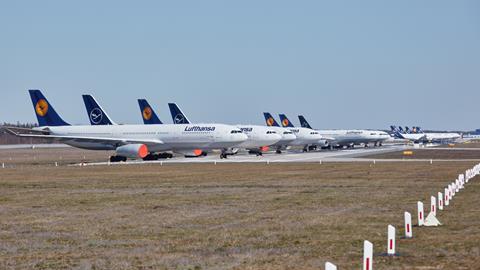 But a key stumbling block in Germany has been Lufthansa's concerns over resulting state control in the running of the carrier. Chief executive Carsten Spohr told shareholders at its recent AGM that the group needs government support, "we do not need government management".
In a statement issued today Lufthansa confirms it is in talks over a stabilisation package, detailing for the first time it is seeking €9 billion. "Negotiations and the process of forming political will continue," it says.
It says that In addition to a silent participation, the negotiations on financing measures include a secured loan. "The conditions are the subject of these discussions," Lufthansa says.
"A part of the negotiation is also a federal participation in the company's share capital. In this context, various variants of capital increases are also discussed, including the nominal amount of the share, if necessary after a capital cut, in order to create shares of up to 25% plus one share," it says.
The WSF is also seeking representation on Lufthansa's supervisory board.
"The executive board of Deutsche Lufthansa continues negotiations with the aim of ensuring the future viability of the company for the benefit of its customers and employees," it concludes.
Fixed costs for staff, aircraft, fuel hedges and material mean that for operations alone the carrier is currently burning through around €1 million per hour. Around 700 of the carrier's 760 aircraft are grounded. "We have practically no earnings," Spohr said in his AGM address. "The preliminary figures show a loss of €1.2 billion for January to March, and the second quarter will be even worse."
A number of European governments have agreed state-backed loans and financing to bail out national carriers, including Lufthansa Group operator Swiss, and most high-profile, Franco-Dutch support for Air France-KLM. Support for the latter included conditions relating to meeting climate change objectives, such as reducing domestic operations.