Lufthansa Group is losing €1 million ($1.2 million) every two hours amid the Covid-19 crisis – an improvement from losing the same amount every hour at points last year.
Speaking during a Eurocontrol event today, the group's chief executive, Carsten Spohr, describes that progress as "a significant improvement", but laments that it is "still hurting".
The reduced losses reflect a cost-cutting initiative driven by the group's ReNew restructuring programme, which has "gone a lot faster than we would have thought", he observes.
Indeed, despite continuing losses, Spohr points out that Lufthansa has so far "just taken" €3 billion of the €9 billion available to the group in government loans.
While not downplaying the importance of that support, Spohr "does not believe we need all €9 billion, depending how the year plays out".
Nevertheless, "such a unique crisis is first of all a threat… and like all global peers, Lufthansa needed to turn to governments to stabilise the business", he states.
For now, the carrier is working on the basis that there will be a "sharp recovery, somewhere around the summer period", driven by a move away from quarantine requirements for travellers, as testing and vaccination programmes enable governments to release restrictions.
Lufthansa is therefore working on a range of scenarios where the group reaches 40%-60% of 2019 traffic levels for full-year 2021.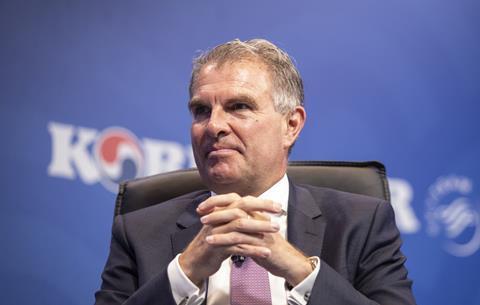 "I hope, at least, we won't be much off either way," Spohr states.
As that plays out, the ReNew programme is "a unique opportunity… to come out as a more leaner company", according to Spohr. The restructuring also creates "a huge opportunity when it comes to sustainability", thanks to fleet modernisation in particular.
Among the ReNew programme's initiatives, "we took four-engine aircraft out, we grounded the A380 fleet, we took the A340-600 out and we don't plan to bring them back into the air", Spohr says.
"So that is a significant fleet modernisation happening by the fact that we are now a smaller airline, and just by the pure nature of the math behind it, [we are modernising] our fleet faster."
At the same time, Spohr notes that Lufthansa has cut "every fifth staff member" so far.
The group has seen 29,000 employees depart from its pre-pandemic workforce of 135,000, with 106,000 left today, he explains.
"There will be more people who will leave, but it has to be done to adjust for the new normal and to survive the crisis," Spohr states.
Cargo services have been a "different story" to passenger operations, Spohr notes, with the group seeing a "great" start to 2021 in freight terms after a strong 2020.
Lufthansa is therefore retaining more MD-11Fs than it previously planned, in order to meet demand.