Lufthansa Group has dropped the Eurowings name from its newest leisure unit as part of a rebranding which will support Discover Airlines' growth with six more aircraft over the coming year and expansion at Munich airport.
Eurowings Discover began operating flights for Lufthansa under its own AOC in the summer of 2021, initially focusing on leisure routes of Frankfurt. Lufthansa will now rebrand the carrier as Discover Airlines, deploying its first flight under its new colours tomorrow after taking delivery of an Airbus A320 in the new livery.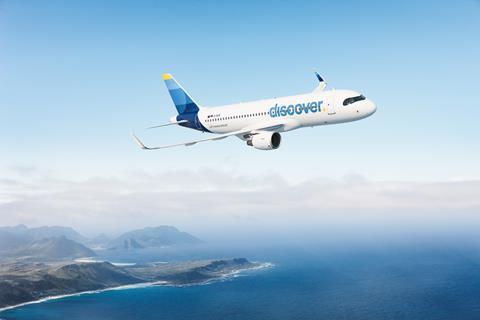 Discover Airlines chief executive, Bernd Bauer, says: "We have built up our airline in a record time of two years, hired around 2,000 employees, phased-in 22 aircraft, and today are flying to over 60 destinations around the world. The fact that we are already profitable after two years is thanks to the enormous commitment of the team.
"This same enthusiasm is now driving us forward. The start-up phase is behind us and we are working on sharpening our profile as well as a clear positioning in the segment of higher-value leisure travel. This is also expressed by the brand identity which at the same time underlines our affiliation with the Lufthansa Group."
While the lower-case branding of Discover remains the prominent name, the livery features "Member of Lufthansa Group" written on both sides of the fuselage.
Discover will add five more A320s and one A330 this year to take its fleet to 28. The five Airbus narrowbodies will be used to add routes from Munich, from where it expects to serve 23 leisure destinations next summer.
The additional A330 will take to 13 the number of widebodies it will operate next summer from Frankfurt, alongside 10 A320s.
Discover plans to begin long-haul flights from Munich from the start of 2025.