Lufthansa Group has repaid about half the €2.3 billion ($2.8 billion) it drew through German stabilisation measures and is seeking shareholder authority for another possible capital increase.
"The timing and amount of a possible capital increase have not yet been decided. It will depend on various factors, not least of which is the further development of the crisis and our capital requirements resulting from it," group chief executive Carsten Spohr tells shareholders in a prepared speech.
Lufthansa released the speech's text today, ahead of the company's 4 May meeting.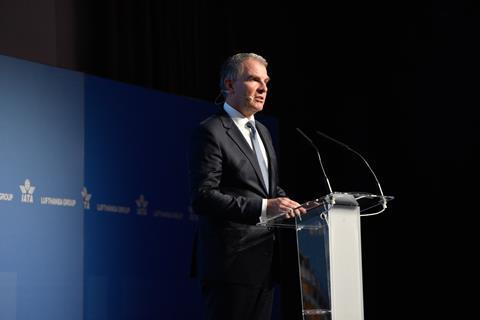 The airline group also today disclosed an adjusted EBIT loss of €1.1 billion for the first three months of 2021.
But the company ended 2020 with a "significantly larger liquidity buffer than expected", of around €10.6 billion, according to Spohr's speech. "Through our consequent measures we have been able to continuously and sustainably reduce our liquidity outflow."
Last year, Spohr flagged the scale of the challenge facing Lufthansa (and the wider airline industry), saying the group was losing €1 million hourly. In January, he said cash burn had slowed to about €1 million every two hours.
Now, in his AGM address, Spohr estimates Lufthansa is burning about €1 million every four hours.
Lufthansa, in its first-quarter results, said cash outflow had averaged €235 million monthly during the first quarter – lower than the €300 million it had expected, in part thanks to stronger performance by its logistics and MRO segments. Lufthansa expect to burn around €200 million monthly during the second quarter.
Spohr notes Lufthansa has already drawn down €2.3 billion of the €6.8 billion pledged by the German government to stabilise the company.
"Of this amount, we have already repaid €1 billion through the repayment of the loan by the Kreditanstalt fuer Wiederaufbau (KfW), so that we are currently only indebted to the German taxpayer to the tune of €1 billion," Spohr says. "At the same time, the value of the Lufthansa shareholding has increased by more than €1 billion since the German government took a stake in the company."
But, he stresses, the group's balance sheet ratios have greatly suffered as a result of the crisis. To this end, Lufthansa is seeking authority for the possible capital increase to strengthen its balance sheet.
"What is clear is that we will use a large part of the proceeds to repay the government stabilisation measures," Spohr says. "Because – and we have stressed this time and again – we prefer to finance ourselves on the capital markets rather than by the taxpayer."