Lufthansa Group is holding "intensive talks" with governments in Germany, Austria and Belgium about the provision of state aid to help its airlines survive the coronavirus crisis, but the company appears reluctant to accept any support that comes with conditions attached.
In a speech to shareholders at Lufthansa's annual general meeting on 5 May, chief executive Carsten Spohr said "intensive talks" on liquidity support for the German flag carrier were taking place with the government in Berlin. Similar negotiations are under way in Austria for Austrian Airlines and in Belgium for Brussels Airlines, while the group has "received assurances" from Switzerland's government over state-guaranteed loans for Swiss and Edelweiss.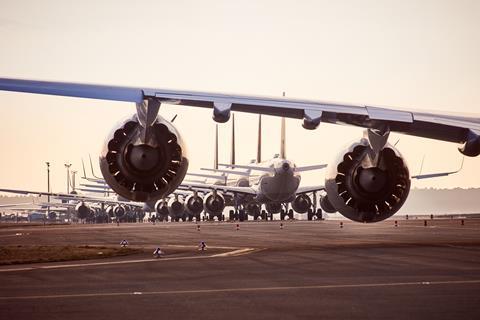 "At the moment we are not only discussing the levels of the necessary amounts, but are also negotiating the conditions and timelines as to when this help can be made available," says Spohr. However, he stresses that while Lufthansa Group needs government support, "we do not need government management".
Spohr's comments follow the European Commission's approval on 4 May of the French government's €7 billion ($7.6 billion) Air France-KLM bailout, which is conditional upon Air France agreeing to slash domestic flights and make dramatic cuts to its carbon-dioxide emissions.
"Lufthansa was successfully privatised in 1997," says Sphor. "During the last three years, we have consistently generated an operating result of over €2 billion… We have proven that we can do it, and that is why it is important to us to preserve the entrepreneurial freedom of decision and action of the Lufthansa Group."
Shareholders are also showing signs of reluctance to accept government support that comes with strings attached. German investment fund and Lufthansa shareholder Union Investment has argued that state aid could lead to "interference" at the airline group.
In a statement issued ahead of the annual general meeting, Union Investment portfolio manager Michael Gierse warns: "If politics interferes in business, we see the risk of an oversized infrastructure that is not sufficiently adapted to the new normal."
He adds: "The state is not the better entrepreneur."
Union Investment is calling on Lufthansa management to concentrate on premium traffic in a post-coronavirus world, with a smaller operation than in the past.
In Gierse's view, the pandemic represents an "opportunity" for the group to rejuvenate its business and cut emissions with a reduced fleet, gaining green credentials which are set to become more relevant. "A well-capitalised and lean Lufthansa may be able to get off to a stronger start after the crisis," he says.
As a state-backed restructuring effort will "massively" increase debt in the short term, Gierse deems it "all the more important that management focuses on profitability and sensible cuts", adding:"This includes a clear focus on the premium product, not on low-cost subsidiaries."
Gierse says Lufthansa "must not perish due to its own complexity" and suggests that the crisis provides a chance to simplify the group's structure. "Mind games about purchasing difficult renovation cases like Alitalia forbid themselves after the crisis," he asserts.
Spohr in April outlined plans to make 10,000 of the group's approximately 130,000 employees redundant and to retire 100 of its 760 aircraft, as Lufthansa expects that travel demand will not return to a pre-coronavirus level for several years.