Lufthansa Group has confirmed earlier guidance that it made an adjusted EBIT loss of €1.2 billion ($1.3 billion) in the first quarter and warns it expects around 300 aircraft still to be parked next year.
The group, which has just agreed conditions on a vital €9 billion state loan to support it through the crisis, is embarking on restructuring talks with unions. It also says it is in negotiations over "extensive postponements" of planned aircraft deliveries and is examining the sale of non-core business units in the medium term.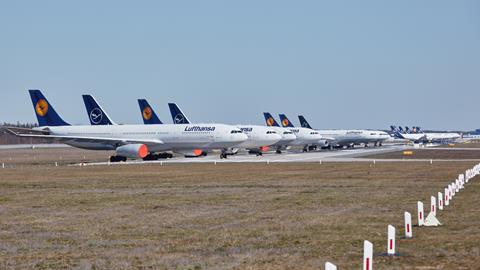 Lufthansa, which delayed full publication of its first-quarter results from 30 April because of the pandemic, had already flagged the likely loss in a market statement on 23 April. The figure, which compares with a loss of €336 million in the same period of 2019, was driven by an 18% fall in revenues to €6.4 billion. Passenger numbers across the group were down 26% in the first quarter and load factors slid almost five points to 73.3%.
Crisis-related asset impairments and the negative development of its fuel hedges further dented performance at a net level. The group recorded impairment charges of €266 million on decommissioned aircraft and €157 million on the goodwill of LSG North America and Eurowings. Fuel hedging hits had a €950 million impact in the quarter.
These pushed the group's net loss to €2.1 billion for the three months ending 31 March.
The group says the uncertain further development of the pandemic makes it impossible to give a precise forecast of the earnings trend for 2020. But it says it continues to expect a "significant decline" in adjusted EBIT.
"Global air traffic has come to a virtual standstill in recent months. This has impacted our quarterly results to an unprecedented extent," says group chairman Carsten Spohr. "In view of the very slow recovery in demand, we must now take far-reaching restructuring measures to counteract this."
Passenger numbers across the group in April were down 98% as it carried just 241,000 customers across a skeleton service. Passenger load factor slumped 36 percentage points, to 47.5%. While freight load factors improved in its cargo operation, the big reduction in bellyhold capacity on passenger aircraft meant its freight traffic was still down 53% in April.
Lufthansa Group carriers have parked around 700 of their 763 aircraft during the crisis. The group though is resuming a number of services from the middle of this month and now expects to operate 40% of its original schedule by September. This will cover around 70% of its long-haul destinations and 90% of its short-haul destinations.
But the group expects 300 aircraft will still be parked in 2021, and 200 in 2022. "Even after the end of the crisis, which is expected to end in 2023, the group expects its fleet to remain 100 aircraft smaller. A considerable decline in demand is also initially expected for the service companies' third-party business," it says.
While Lufthansa sayshas cut its fixed costs by a one-third since the crisis began, the group says it is consuming €800 million of liquidity reserves each month. It also notes the reimbursement of cancelled tickets and repayment of financial liabilities that have fallen due "will have a foreseeable negative impact on our liquidity development".
At the end of May Lufthansa's supervisory board approved a €9 billion state support package offered by the German federal WSF fund.
"In order to repay the loans and coupons quickly, we will have to significantly increase our annual free cash flow compared to pre-crisis levels - even though global demand for flights will remain below pre-crisis levels for years to come," says Thorsten Dirks, board member for digital and finance.
"This will only succeed if we implement restructuring programmes in all areas of the group and agree on innovative solutions with the unions and working councils."
Restructuring programmes are already under way at its Austrian Airlines and Brussels Airlines units - the former having agreed a long-term 20% cut in its fleet and personnel costs.
"Restructuring and cost-cutting programs will also be launched in other Lufthansa Group companies," the company says. "Negotiations with aircraft manufacturers on extensive postponements of planned aircraft takeovers are continuing. In addition, the sale of individual non-core business units is being examined in the medium term."