Lufthansa Group continues to be wary of growth constraints from wider supply chain challenges this year as it expects to increase capacity to between 85-90% of pre-pandemic levels.
The group's passenger operations, comprising Austrian Airlines, Brussels Airlines, Eurowings and Swiss International Air Lines, in addition to Lufthansa's operation, averaged 72% of 2019 capacity last year. Capacity reached 78% in the third and fourth quarters.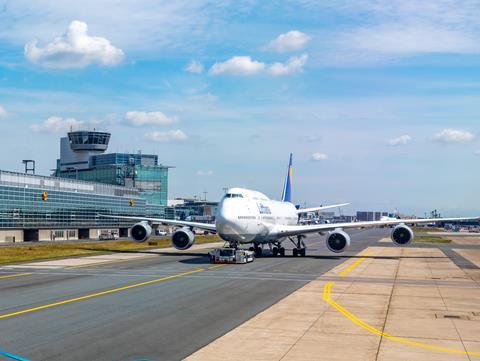 While citing "continued robust demand" in 2023, Lufthansa says capacity development "will be limited by the bottlenecks still expected in the European aviation system" and notes first-quarter capacity will still only be around 75% of pre-crisis levels.
Notably, the airline recently trimmed its planned summer schedule – taking capacity out early to limit the disruption on existing bookings – after deciding staffing bottlenecks in the industry remain.
Asked during a full-year results call on 3 March about plans for its Frankfurt hub in particular, Lufthansa Group chief executive Carsten Spohr said that 2023 capacity is likely to be at the lower end of its guidance at around 85%. "I'd rather stay at 85% at Frankfurt and go to 90% or whatever in Brussels or Vienna, because we do know… that Frankfurt is more challenged by constraints than other hubs in our system," Spohr explains.
"I am happy to say they are fully recognising that. They are investing in technology, security checks... hiring as much as they can," he says. "But if we need to cancel flights… and we did that a couple of weeks ago, we'll do it. So I am positive in terms of how we cooperate, and realistic in terms of how much Frankfurt can cope with compared with the other hubs in our system."
Lufthansa bounced back to profits last year with group adjusted earnings before interest and taxes (EBIT) of €1.5 billion ($1.6 billion) and expects "further significant improvement" for 2023 – albeit with much of the profit delivered in the summer quarters rather than in a likely loss-making first quarter. That bright prognosis is partly supported by continued strong yields, which are a factor of capacity constraints.
"Our industry is driven to a high degree by the balance between supply and demand. If you see, at least in our networks, we are not anywhere close to 100% capacity yet, but the world more or less is growing towards 100% demand," Spohr says. "We cannot fill that gap on the supply chain side, because of various restrictions [like] lack of staff, lack of infrastructure, lack of planes, lack of spare parts, lack of engines."
Freight was a particularly strong contributor to the group in 2022. Lufthansa Cargo's adjusted EBIT was up 7% on 2021 at €1.6 billion, while yields climbed more than one fifth over the previous year – and stood 136% above pre-crisis levels. While global cargo demand has been weakening, Spohr still expects the sector to remain above pre-pandemic levels.
"Cargo is much more difficult to forecast, but let's not only take the 2022 numbers for reference," says Spohr. "We don't think [cargo] will go back to 2019 levels quickly – and even those weren't that bad – but [levels] somewhere between 2019 and 2022 will be hanging around for a while, I think."