Lufthansa Group has highlighted the opening today of what it describes as the world's first industrial plant producing "CO2-neutral, electricity-based kerosene".
The plant in Werlte, Germany, is operated by Atmosfair and produces synthetic aviation fuel from water, carbon dioxide and renewable electricity under a power-to-liquid (PtL) process.
Lufthansa Group describes itself as a partner in the project and one its first customers under a joint purchase agreement with logistics firm Kuehne+Nagel.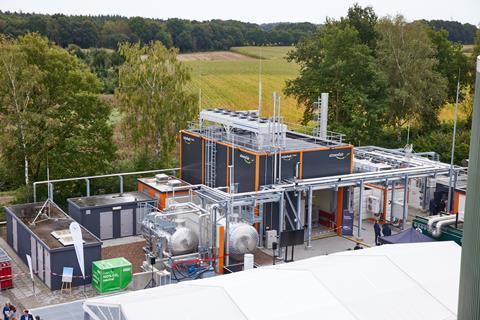 "Lufthansa's airlines have been focusing on the research and use of sustainable aviation fuels (SAF) for many years," says Christina Foerster, member of the executive board at Lufthansa Group. "Synthetic fuels from renewable energies are the kerosene of the future. They enable CO2-neutral aviation."
Lufthansa Group will purchase "at least 25,000 litres" of PtL fuel – or 'e-fuel' as it is sometimes known – annually over the next five years, it says, to be used by its Lufthansa Cargo unit. That equates to around 20 tonnes of jet fuel from the plant per year.
In 2019, Lufthansa Group used 10.4 million tonnes of fuel across its airlines, according to its latest sustainability data.
Lufthansa Group notes that its previous SAF projects have focused on bio-fuels produced from agricultural waste or used cooking oils due to the lack of industrial-scale projects for alternatives such as PtL.