Many airline business models are not optimised for the product and pricing dynamics that are characterising the industry's journey out of the Covid-19 crisis, in the view of Etihad Aviation Group chief executive Tony Douglas.
Speaking during a CAPA Live event today, Douglas observed that "yield management considerations are probably more important now in pricing and positioning than they have ever been before".
That is a complicated task, however, because "revenue management used to be a heavy degree of science and a sprinkle of art, but today it's a heavy degree of art and little bit of science", Douglas says.
While this shake-up means there are some "incredible deals out there" for customers, it will ultimately "force many operators to have to rethink their business models", he suggests.
"The trick is to make sure that one has a blend of propositions that give choice to the marketplace," Douglas says.
Within this context, he mentions British Airways' recently announced intention to launch a lower-cost unit at London Gatwick airport, alongside Etihad's launch of joint-venture budget carrier Air Arabia Abu Dhabi last year as part of its transformation plan.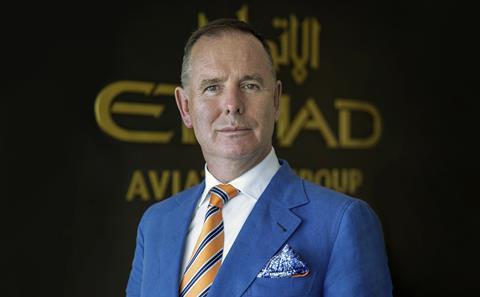 Indeed, despite Etihad's continuing transformation being instigated pre-Covid, the programme has given the operator more strength to handle the shocks and consequences of the Covid-19 crisis, Douglas believes.
As the recovery from the pandemic gathers pace – driven by leisure and visiting friends and relatives demand, with business travel lagging – Etihad's low-cost joint venture with Air Arabia is a "critical competent for us operating here with narrowbodies within the [Gulf region], and into eastern European and the Indian subcontinent", Douglas states.
At the same time, a smaller Etihad Airways' core function as a hub carrier will continue, as will its focus on "differentiating around the quality of its service and in particular in the way its wellness proposition will give passengers reassurance" – the latter point a reference to Covid-related health measures.
"The hub status of Abu Dhabi and the UAE in general, given the fact that we are six flying hours from two-thirds of the world's population, will continue to be a very significant part of our operating model," Douglas says. "The thick routes will continue to be dominant, in our opinion."
Importantly, Etihad's transformation programme has made it a more "agile" business, in Douglas's view, which has been helpful in dealing with the "almost daily" network-planning decisions that are required during Covid-19.
"[Etihad Airways] has operated into places like Santorini, Mykonos, Malaga [during the pandemic] – these weren't the kind of things Etihad would have done in the past, but in a very agile way we've adapted to dynamic travel restrictions," he states, adding: "The agility is something you'll see us maintain going forward."