Amid the upheaval of severing its contract with longtime operating partner American Airlines and finalising a new deal with United Airlines, Mesa Air Group reported a $115.6 million loss during its fiscal fourth quarter.
For comparison, the parent company of Mesa Airlines lost $7.5 million during its fiscal fourth quarter - which ends on 30 September - in 2021.
For the full fiscal year, Mesa reported a $183 million loss, compared to a profit of $16.6 million in fiscal 2021.
Mesa finalised a five-year capacity purchase agreement with United on 27 December that covers up to 38 Bombardier CRJ900s depending on how many Embraer E175s the airline operates, chief executive Jonathan Orstein said during the company's earnings call on 29 December.
"This is an important momentum reversal for the regional airline industry as we work to restore service to neglected smaller and rural markets – three quarters of which have seen service reductions in the past three years – by adding over 100 daily regional jet flights to the United network," Ornstein says.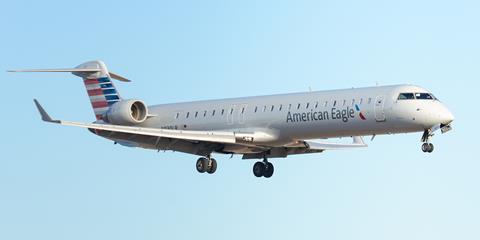 Mesa will operate its current schedule with American through 28 February 2023, then reduce flights by half until it stops flying for American on 3 April. Mesa plans to begin transitioning aircraft to United in March.
Mesa's total revenue during the three months ending 30 September was $126 million, compared with $131 million during the same quarter of 2021, the company says. Its unprofitable fourth quarter was due in part to losing $5 million monthly while operating for American, which penalizes Mesa for not flying enough block hours, Ornstein adds. The company also felt pressure from higher pilot pay.
The company's fourth-quarter earnings call had previously been scheduled for 12 December but was postponed to the second-last business day of the year. On 19 December, the regional carrier disclosed plans to end its 30-year partnership with American.
In separate deals also finalised 27 December, United is providing Mesa with $41.2 in financial assistance and $80 million for 30 spare engines, Ornstein says. Additionally, United has gained 10% equity in Mesa and a position on the board of Mesa Air Group.
United will also pay Mesa increased block-hour rates to cover the incremental pilot-wage increases in its new contract with union Air Line Pilots Association, International (ALPA), which will remain in effect through September 2025.
Phoenix-based Mesa currently operates 60 E175s and 37 CRJ-900s on behalf of American and United, and three Boeing 737-400Fs for DHL Express, according to Cirium fleets data. Its operating partnership with DHL is unaffected by its split with American.
The carrier's flight crew and maintenance bases in Phoenix, Dallas, El Paso and Louisville (Kentucky) will remain in place, while it plans to add bases in Houston and Denver "to expand to western states", Ornstein says.
Mesa has suffered from the pilot shortage as major US airlines have recruited many captains and first officers, but the carrier now has 400 pilots in its training pipeline. Now, its plan is to position itself as a pathway for pilots who want to fly for United, which on 13 December ordered 100 Boeing 787 Dreamliners – with options for 100 more – and 100 737 Max aircraft in one of the largest-ever aircraft orders by a US airline.
"United has acted very decisively in this particular circumstance to ensure there's a pilot flow that goes from Mesa into United," Orstein says. "I mean, United now has literally the greatest growth plan in the history of commercial aviation."
"There is a big demand for pilots and I think United views Mesa as their farm team."