Mesa Air Group, parent of regional carrier Mesa Airlines, disclosed 19 December plans to end its 30-year partnership with American Airlines in favour of a new, five-year agreement with United Airlines that is still to be finalised.
Details remain unclear, and the deal could face pushback from pilots.
"As a result of ongoing unprofitable operations with American Airlines, driven primarily by higher pilot wages and block-hour utilisation penalties driven by the ongoing, industry-wide pilot shortage, Mesa initiated and has finalised a consensual wind-down of its American operations," the airline says.
Mesa already flies for both carriers, with 37 Bombardier CRJ900s in service with American and 60 Embraer 175s in service with United, according to Cirium data.
The regional carrier is still "finalising" the United deal. In March, it plans to begin transitioning to United aircraft it now flies for American, the airline says.
Mesa intends to continue using its same crew and maintenance bases in Phoenix, Dallas and El Paso in Texas, and Louisville, Kentucky. It also has United's support in opening a crew base in Houston and a pilot base in Denver, with potential to add further sites.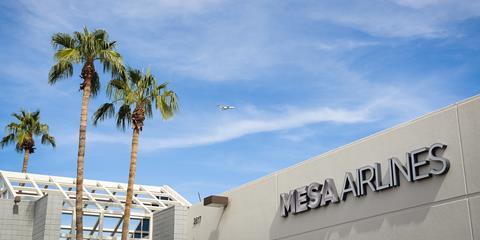 "I'd like to thank our longtime friends at American Airlines," says chief executive Jonathan Ornstein. "Our relationship with American began in 1992 when Mesa initiated flying as a codeshare partner with America West after investing in its reorganisation. Over the last 30 years, we've been through a lot together and we will always appreciate the opportunity to work as America West Express, US Air Express and American Eagle."
Mesa reported a third-quarter loss of $10 million on 8 August as its block hours fell and it continued feeling the effects of the pilot shortage. Mesa Air Group postponed its 12 December fourth-quarter earnings call and has yet to set a new date.
In an internal memo to Mesa employees, Ornstein says the carrier's operation with American was losing about $5 million monthly due to higher pilot pay rates and penalties for not meeting contracted block-hour requirements.
"As a result, we have concerns about American's ability to be a reliable partner going forward," Ornstein tells Mesa employees. "Needless to say, this put us between a rock and a hard place. At that point, your management knew that something had to change."
The Phoenix-based airline says the agreement with United will "cover all of Mesa's existing flying at American". It provides few fleet details except to say that the deal "could increase to 38 CRJ900 aircraft, dependent upon the number of E175s that Mesa is operating". United will also "compensate Mesa for the higher costs associated with regional jet flying".
"Once finalised, our expanded agreement with United is expected to both solidify our operations and, in conjunction with our amended agreements with key stakeholders, significantly improve our financial position," Ornstein says. "Most importantly, after years of reduction in service to smaller and rural communities, this agreement will help turn the tide and is expected to add over 100 regional jet flights into the United networks."
"Importantly, current and future pilots at Mesa will benefit from the anticipated new agreement with United, which is poised to offer the best combination of the highest pay rates and fastest career path to a major airline in the industry," he continues.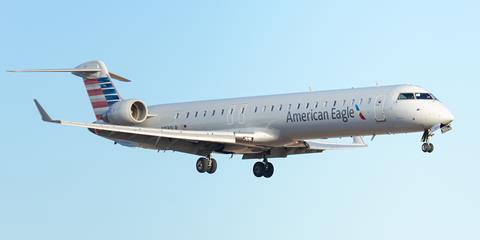 But the deal seems less well received by the Air Line Pilots Association, International (ALPA), which represents United's pilots. ALPA's United Airlines' council says it is "unaware of the details" of the deal adding Mesa's 79-seat CRJ900s to United's network but maintains that "this type of flying should not be outsourced to regional carriers".
United has already hit its "cap" on the number of outsourced aircraft allowed under its contract with the union, ALPA adds. "Anything beyond that limit must be flown by United pilots."
It is unclear whether United will manoeuvre further to accommodate Mesa's CRJ900s. Asked by FlightGlobal for further information, United declines to comment.
News of its deal with United comes amid a broader fleet reshuffle by Mesa. In October, the airline said it will sell 18 CRJ700s to United "for approximately $50 million". It has also reached a deal to sell 11 CRJ900s to an unspecified third party and is exploring deals to sell spare parts, engines and other surplus aircraft.
In another shake up of the US regional airline industry, Air Wisconsin – which currently operates CRJ200s in the United network on a soon-to-expire contract – is in the process of transitioning to operating on behalf of American in 2023.
United, meanwhile, recently made waves with its order for 100 Boeing 787s and a separate order for 100 737 Max, signalling its confidence in both Boeing and the return of international air travel following the Covid-19-related downturn.