Mesa Air Group lost $47.6 million during its fiscal third quarter, with the airline's block hours plummeting during its transition to flying its Bombardier CRJ-900s on behalf of United Airlines.
The parent company of Mesa Airlines lost $10 million during the same period of 2022.
"We're not particularly pleased with these numbers," chief executive Jonathan Ornstein said during the company's 9 August quarterly earnings call. "We know that things have to change. The good news is that we feel we have a very strong partner to help make that happen."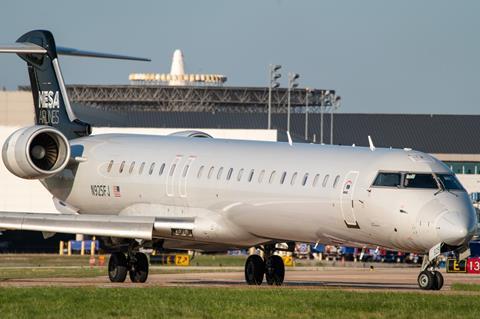 The Phoenix-based carrier generated $115 million in quarterly revenue, down from $134 million last year, as contract revenue decreased nearly 21%.
"These decreases were primarily driven by 50% reduction in CRJ-900 block hours and fewer aircraft, partially offset by higher United block-hour rates for new pilot pay scales," Mesa says.
The regional carrier is also struggling to hire enough pilots to fully utilise its fleet amid the industry-wide shortage of qualified flight crews, which Ornsteins calls a "captain crunch".
"In spite of consistently adding pilots from January to present, we're still only flying approximately 70% of our full utilisation capacity, which we believe is consistent with other regional carriers in the United portfolio," Ornstein says. "To meet United's target utilisation, we will need approximately 150 more pilots, primarily captains."
"Given our current pilot outlook as well as cooperation and support from United Airlines, we believe we will reach United's target utilisation by the end of fiscal year 2024," he adds.
The carrier's transition away from flying on behalf of former mainline partner American Airlines "has not been easy", Ornstein adds, as United "took a particularly conservative approach" to scheduling Mesa's block hours during the quarter.
Moving forward, "more efficient scheduling" could boost Mesa's block hour production, he says.
Last year, Ornstein said that Mesa had been losing $5 million monthly operating for American, which penalised its regional partner for not flying enough block hours – and also poached Mesa's pilots.
Mesa cut ties with the Fort Worth-based carrier in December and then entered a five-year capacity purchase agreement with United shortly afterwards. The regional carrier has since worked to transition its CRJ-900s to United and has ceased operating under the American Eagle brand.
Cirium fleets data show that Mesa has 29 CRJ aircraft and 56 Embraer 175s in service. Ornstein says the company will focus primarily on boosting block hours in its E-Jets, which are the "aircraft of choice going forward".
The carrier continues to work toward selling its "excess" CRJ-900s, to date agreeing to sell 18 of the type. Four deals closed earlier this year, with the remaining 14 expected to close by the end of 2023.
Regarding its cargo segment, Mesa continues operating four Boeing 737s on behalf of DHL.