Regional carrier Mesa Airlines reported a loss for the first quarter of its fiscal year as the company struggled with staffing issues stemming from the Omicron variant of Covid-19 as well as pilots leaving for larger carriers.
The Phoenix-based airline, which operates regional routes for United Airlines and American Airlines and flies cargo for DHL, says on 9 February that it lost $14.3 million during the three months that ended in December, the company's fiscal first quarter 2022, compared to a profit of $14.1 in the same quarter a year ago.
Revenue in the quarter was $147.8 million, down 1.7% from $150.4 million the carrier reported in the same period in 2020.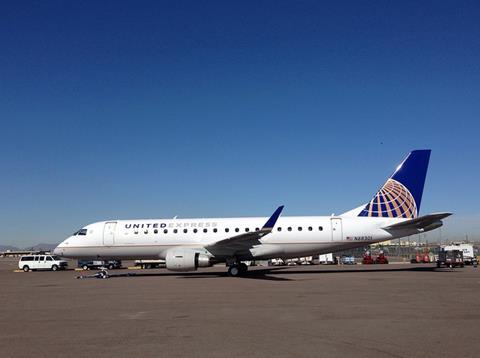 "Mesa's results reflect the impact of Covid to our quarter's operations and financials," says chief executive Jonathan Ornstein. "Its effect on this quarter was significant and unlike anything we have seen in twenty years. This was further impacted by elevated pilot attrition as the major and national airlines have accelerated hiring."
Pilot attrition is an increasing problem at regional carriers, which fly smaller aircraft and pay lower salaries than the legacy carriers. Since passenger demand began to rebound last summer, demand for pilots has grown across the board, and regional airlines are taking the biggest blows. Pilots are leaving the regionals in greater numbers to fill seats left vacant by pilots who retired from legacy carriers amid the coronavirus-driven aviation slump of 2020-2021.
"Looking ahead, we are cautiously optimistic that we are already seeing a decrease in Covid-related absence rates. Managing through the challenges of pilot attrition in our core regional operation remains our team's top priority," he adds.
"One piece of good news is that demand for our products have never been stronger and our primary challenge will be meeting that demand."
Ornstein is hoping the Omicron wave is now in the rear-view mirror, and the company can normalise its operations. During the peak infection period, Mesa had up to 23% of its employees call in sick, he says. "There were days we had to cancel more flights in a day than in the last 12 months."
As a result, executives say they expect to book 15-20% fewer block hours in the current three-month period, fiscal Q2, than in last quarter. By the end of 2022, block hours will be 5-10% lower than at the end of 2021.
At the end of the quarter that ended in December 49% of the company's total revenue was derived from contracts with United, 45% from American, 1% from DHL, and 5% from leases of aircraft to a third party.
At the end of 2021, Mesa operated a fleet of 167 aircraft, comprising 80 Embraer 175s, 20 MHIRJ CRJ700s, 40 CRJ900s, and two Boeing 737-400F aircraft. 25 aircraft remained in storage. Mesa has approximately 402 daily departures.
Building the company's nascent cargo business will be a priority for the carrier going forward, says Ornstein. Therefore the company will add a third Boeing 737-400F to its fleet this month, which will be operated for DHL.
"The cargo business is a very important growth area," he says. "We have only done it for about a year, we used that to prove ourselves, and it's a good indication of our potential that we can grow that."
On 26 January Mesa said it intends on taking 150 of Elroy Air's Chaparal C1 hybrid-electric vertical take-off and landing heavy-cargo aircraft to support that growth and serve the express parcel and healthcare sectors.
"We are increasingly seeing the demand for same and next-day delivery, but so many rural communities have been cut off from the national transportation system," Ornstein said at the time. "With the Chaparral, we're excited to be able to provide autonomous cargo delivery to help reconnect those communities."