US regional carrier Mesa Airlines launched on 9 October a "pay-as-you-go" pilot-training programme built around the company's recently acquired Pipistrel Alpha 2 light aircraft.
The Phoenix-based carrier's Independent Pilot Development programme is designed to accelerate cadets' progress toward 1,500h of flight time, which is the Federal Aviation Administration-mandated minimum – with some exceptions – for commercial pilots.
"This programme is not only a time-building programme but also a career development opportunity that prepares pilots for the challenges and rewards of flying for an airline," says Mesa's chief executive Jonathan Ornstein.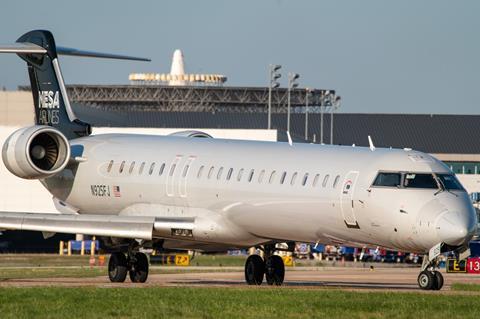 Cadets are required to purchase at least 50-hour blocks at $60 hourly and fly a monthly minimum of 25h.
In September 2022, Mesa announced plans to acquire 29 Pipistrel Alpha 2 aircraft, with options to buy up to 75 more. The light aircraft will serve as the backbone of its new pilot-training programme.
"The Alpha 2 includes advanced features such as dual flight controls, state-of-the-art Garmin instrument panel, Rotax 912 80hp engine, quiet spacious cockpit, autopilot and a ballistic parachute rescue system," Mesa says.
North American airlines are increasingly seeking new strategies to develop and retain pilots amid the industry-wide shortage of qualified flight-deck crews, which affects regional carriers most severely.
During Mesa's most-recent quarterly earnings call on 9 August, Ornstein said the carrier – which flies on behalf of United Airlines under the United Express brand – is struggling to hire enough pilots to fully fly its fleet.
"In spite of consistently adding pilots from January to present, we're still only flying approximately 70% of our full utilisation capacity, which we believe is consistent with other regional carriers in the United portfolio," Ornstein says. "To meet United's target utilisation, we will need approximately 150 more pilots, primarily captains."
More than 400 regional jets and turboprops are currently parked across the USA for lack of pilots. Cirium fleets data show that Mesa has 26 aircraft in storage – almost all Bombardier CRJ900s.