Mexican low-cost carrier VivaAerobus earned $56 million during the third quarter of 2023, its second consecutive quarter with a profit, as demand was high and fares improved.
The Monterrey-based ultra-low-cost carrier said on 26 October that revenue during the three months that ended on 30 September rose 44.8% to $571 million. Its operating profit (before interest and taxes) was $113 million.
"Our [third quarter] performance reflects the strength of the underlying market in Mexico and a disciplined capacity deployment, delivering our highest revenue, operating profit (EBIT), and net income in a quarter," says chief executive officer Juan Carlos Zuazua. "Our core markets are poised to benefit from the solid fundamentals, leveraging our unique and well-positioned network and effective revenue and ancillary management strategy."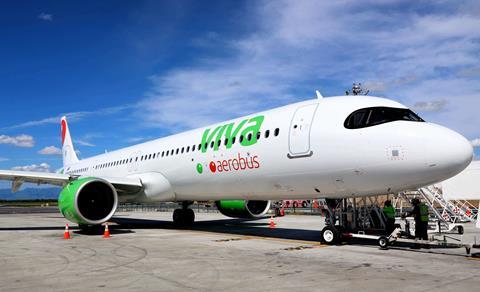 Mexican carriers including VivaAerobus rejoiced last month when the Federal Aviation Administration lifted the country's safety status back up to Category 1, the highest category, after two and a half years. That allows the country's airlines to once again begin expanding their networks and adding transborder flights back to their schedules – which they were unable to do as long as the country had been downgraded to the lower Category 2.
"The Mexican domestic market continues to grow at a healthy double-digit rate while the recovery of Cat 1 opens the opportunity to increase our presence in attractive markets in the US, allowing for more flexibility in our network," says Zuazua.
Shortly after the Category 1 announcement, Viva said it would introduce six new routes to the United States – to Austin, Denver, Miami, New York, Oakland and Orlando – beginning in the first half of 2024.
"The US routes are designed to serve the world's largest international air travel market with affordable options, truly making it easier for people to visit family and friends, take vacations or conduct business," Zuazua said at the time.
GTF ENGINE GRIEF
The carrier ended the quarter with 78 Airbus narrowbody aircraft in its fleet. But VivaAerobus also joins 41 other carriers in dealing with a Pratt & Whitney geared turbofan (GTF) engine recall. During the third quarter, the airline said it had grounded an average of 3.5 Airbus A320neo aircraft, mainly due to engine reliability issues.
"We continue to manage the variables in our control, however, the recent disclosure by Pratt & Whitney on the accelerated revisions on powder metal manufacturing issues on certain engine parts will put further pressure on the aviation industry, including our operation," Zuazua says. "The off-wing inspections should start in early 2024 and persist throughout 2025; we are working closely with P&W to determine the schedule of the inspections and impact on our fleet for next year."
The carrier is looking to offset those effects with new aircraft, lease extensions as well as short-term leases for other jets.
"Of the first batch announced in July, three GTF engines were identified and sent to inspection in September 2023," Viva says.