New regional carrier Bermudair on 7 August received tentative approval of its foreign air carrier permit from the US Department of Transportation (DOT), clearing it to fly to the USA.
The DOT notes that "the applicant has demonstrated… that it is financially and operationally qualified to perform the services authorised", and that Bermudair's exemption authority for foreign air carrier operations has been granted for a two-year term, the DOT says.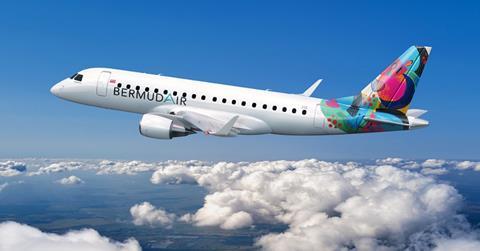 Set to operate its first revenue flights to Westchester, New York as soon as 25 August, Bermudair will initially fly two 30-seat Embraer 175s modified for all-premium seating. Lessor Azorra said on 21 June that it signed lease agreements for the two aircraft with Bermudair.
Operating from its base at LF Wade International airport, the carrier plans to later add Boston and Ft Lauderdale, Florida to its nascent network.
The carrier received an air operator certificate on 26 July from the Bermuda Civil Aviation Authority, which notes on social media that the British overseas territory has not had a scheduled operator based on the island since 1968.
The carrier plans to target business and high-end leisure travellers with 1-and-1 seating configurations and "elevated" customer service.