Startup airline Canada Jetlines completed its first passenger flight on 22 September, with its orange, white and blue Airbus A320 making the connection between Toronto Pearson International airport and Calgary International airport.
The 12-year-old A320 – the fledgling company's only aircraft – took off from Toronto at 8:30am ET and landed in Calgary at 10:16am MT, according to the flight tracking website Flightaware.com.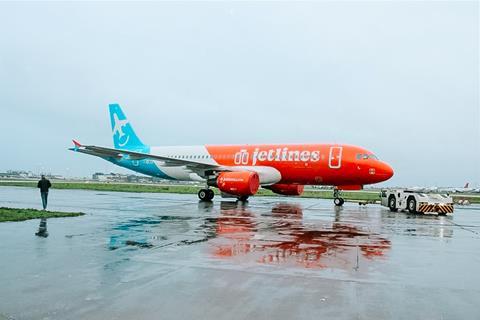 The company's executive team was on hand for the flight, and a celebratory event in Calgary.
Jetlines has said it plans to expand its fleet by adding a second A320 in December. The Toronto-Calgary route currently is the only scheduled route flown by Canada Jetlines, but the carrier has applied to the US Department of Transportation (DOT) to fly to the USA – with an eye specifically on "snowbird" holiday routes to Florida.
The Toronto-based discount leisure carrier – which has undergone various management changes since first emerging on the North American airlines scene in 2014 – pushed back the launch several times in recent months.
A rival discount Canadian startup, Lynx Air, began revenue flights using new Boeing 737 Max 8s earlier this year.
Jetlines and Lynx join well-established passenger carriers Swoop and Flair Airlines in Canada's low-cost airline segment.