New IATA director general Willie Walsh has called for all restrictions and constraints on international air travel to be removed as quickly as the public health situation allows, as the trade body's latest data showed the continued catastrophic impact of the Covid-19 crisis on the airline industry.
Speaking today during his first press briefing since succeeding Alexandre de Juniac on 1 April, Walsh expressed optimism around the return of international air travel once governments are able to bring the health crisis under control, but warns on the danger of "temporary" measures, such as health passports, becoming permanent fixtures and stymieing the recovery.
"We want to get back to situation whereby the restrictions that we see in place today [in the markets that are open], such as testing or the potential for showing vaccine certification… that these requirements are removed," Walsh states.
"These should not become a permanent part of the industry," he continues. "Once we're through this… people can get back to travelling as they experienced back in 2019."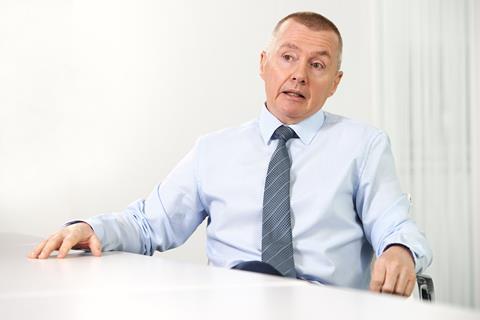 Describing the sector's current parlous state, Walsh says that "we're really seeing two industries operating within one", with freight demand booming alongside devastated passenger markets.
Indeed, cargo demand measured in freight tonne kilometres was up some 9% in February this year versus the same month in 2019, IATA's latest data shows.
But passenger demand is "showing no signs of recovery in the current environment", Walsh says, with vaccine programmes insufficiently advanced to allow for the release of travel restrictions.
International passenger travel measured in revenue passenger kilometres was down 89% from pre-crisis levels in February, according to IATA, with domestic RPKs some 51% lower.
Punishingly low passenger load factors of barely more than 40% were seen in international markets during the month, with those on domestic services averaging around 70%.
Passenger yields were also low, IATA data shows, with forward bookings way down on pre-crisis levels – albeit amid a recent trend towards last-minute ticket purchases.
With passenger travel being much more important to the airline revenue mix than freight for most carriers, Walsh expects industry cash burn to continue for some time.
He notes, however, that the roll-out of vaccination programmes means there is some optimism around the potential for improved passenger travel performance in the second half of 2020, even if developing economies are likely to lag the opening up of markets involving more advanced economies.
Citing strong evidence of "pent-up demand" for air travel, Walsh expresses hope that "we will see passenger traffic recover and recover strongly", when restrictions and constraints to travel are lifted.
In the meantime, he says, "a lot of work needs to be done" to prepare the industry for that restart.
"We want to work with governments so that they can better understand what will be required for airlines," Walsh says.
Describing his other priorities as IATA director general, Walsh cites the importance of facilitating "our member airlines to be able to operate" through initiatives such as the Travel Pass digital health app scheme, which will help to alleviate what Walsh hopes will be short-term challenges around checking health documentation at airports.
Walsh also said he would push back against attempts by other parts of the commercial air travel sector – including airports and air traffic control providers – to claw back lost revenue by hiking fees, in what he called "monopolistic-type behaviours".
He further cited sustainability as a key challenge for the industry.