Start-up regional airline Bermudair is planning to fly from Bermuda to three US cities in Florida, Massachusetts and New York, starting with two Embraer 175s.
On 5 May, the carrier filed an application for a foreign air carrier permit with the US Department of Transportation (DOT), outlining an operation that would conduct both scheduled and chartered flights between the USA and Bermuda. The airline says the aircraft will be outfitted with 30 premium seats.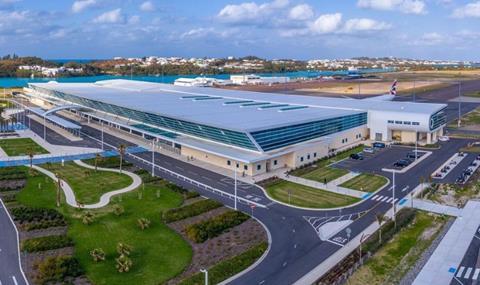 Bermudair proposes to fly six days a week, twice daily from Bermuda to New York's Westchester County airport. In addition, the airline has applied to fly six days a week to both Boston and Fort Lauderdale, each once daily.
"Bermudair may further expand the proposed services and aircraft in the future," the carrier notes.
Based at LF Wade International airport, Bermudair plans to begin operating as soon as it is authorised by the federal governments of Bermuda and the USA, the airline says in its application. The carrier is also awaiting on an air operator certificate from the Bermuda Civil Aviation Authority.
Bermudair's aircraft, to be leased from Irish lessor Tiradentes Portfolio C, were previously operated by Flybe, a failed regional UK carrier that collapsed in January 2023.
The Bermuda-based company's founder, chief executive and majority shareholder is listed as Adam Scott, the co-founder of Odyssey Airlines, a start-up carrier that had planned to offer business-class service from London City airport dating back to 2011, but has yet to begin commercial operations.
"Bermudair has assembled an experienced team of individuals to manage and develop the unique market opportunities associated with the establishment of its Bermuda-US service," the airline says.
Based on flown passenger estimates and airfare between $750 and $900, Bermudair projects to generate nearly $39 million in its first year of operations with its proposed flights to the USA.
The carrier will compete with JetBlue Airways, American Airlines, United Airlines and Delta Air Lines, all of which offer flights between Bermuda and the New York City metropolitan area, according to Cirium networks data. JetBlue also flies to Boston from Bermuda, and American connects Bermuda with Miami.