The testing of international travellers for Covid-19 must not take resources away from higher-priority areas and should be tailored to each country's needs, in the view of World Health Organization director general Tedros Adhanom Ghebreyesus.
During a keynote address at the IATA AGM on 24 November, Ghebreyesus underlined the challenge faced by IATA as it seeks the speedy introduction of testing regimes to open up international travel markets, saying: "If a country decides to include travellers in its national testing strategy, it should do a risk-benefit analysis to avoid diverting already scarce testing resources from where they are needed most."
Ghebreyesus also suggested that there is "no zero-risk and no one-size-fits-all approach for international travel, because every country has a unique situation".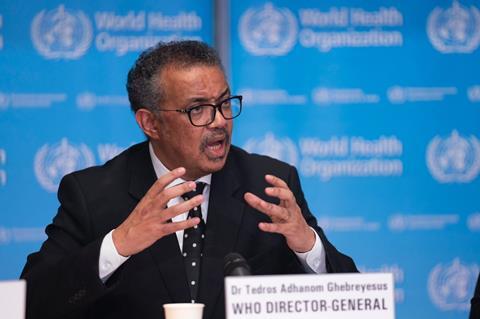 His comments came with IATA pushing hard for the introduction of systematic Covid-19 testing as a means to safely replace quarantines implemented by many countries. The airline association argues the industry's situation is too grave to wait for the widespread introduction of vaccines to reopen cross-border travel.
WHO is developing a "risk assessment and management framework" to advise countries on travel measures, Ghebreyesus says, "including the appropriate use of testing, taking into account the epidemiology situation and health system capacities in the countries of departure and arrival".
He adds that the use of testing should "be based on a scientific risk assessment" and "regularly reviewed regularly as the situation evolves".