Embattled low-cost carrier Nok Air plans to inject fresh funds in 2022, to pay for "necessary capital expenditure", as well as repay liabilities.
It comes as the Thai carrier clinched the crucial green light from Thailand's Central Bankruptcy Court for its rehabilitation plan, which allows restructuring planners to execute the plan.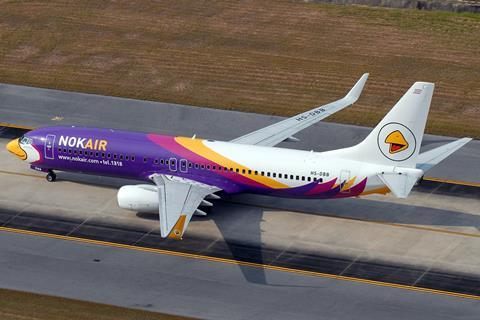 Nok, which first filed for business rehabilitation in late-July amid financial woes deepened by the coronavirus pandemic, says it hopes to increase its registered capital by not more than Bt5 billion ($148 million), with the allocation either done in one or multiple rounds.
Disclosing portions of the approved rehabilitation plan in a 2 October stock exchange filing, Nok also lists 208 creditors seeking to claw back around Bt27.3 billion in debts.
The airline has grouped the creditors into 16 groups, depending on the nature of the claims. Taking the lion's share of claims are creditors "relating to aircraft lessors where debt obligations are incurred after the order of business reorganisation", who have sought Bt19 billion in claims.
However, the carrier states that the the debts claimed by this group "are not legitimate" under the plan, as these debts would have been incurred after business reorganisation. Instead, Nok says it will enter into a letter of intent with these creditors with regard to the original lease agreement, with terms renegotiated between administrators and creditors.
"Creditors will receive their debt claims in accordance with terms and conditions stipulated under the agreed LOI, the definitive agreements in respect of the LOI and/or its amendments, if any," states Nok.
Another group with significant claims are creditors with outstanding loans. This group is seeking more than Bt2.7 billion in claims, according to Nok's disclosure.
To this end, the carrier says interest payments relating to the total debt amount "shall be suspended and accrued", and paid off in a one-time transaction in 2023. The outstanding obligated principal amount will be repaid by 2026.
Nok also outlined plans to tackle any potential cash flow issues while the rehabilitation plan is being implemented, though it expects there be no liquidity issues with the fresh working capital injection.
Should there be illiquidity, plan administrations, which include airline chief Wutthiphum Jurangkool, will "implement cost reduction", negotiate favourable credit terms in terms of operating costs, as well as "use its best efforts" to negotiate new lines of credit that would cover a temporary cash shortfall.
Adds the airline: "The plan shall be considered successful if the plan administrator makes debt repayment in compliance with the conditions stipulated in this plan, for a consecutive period of five years from the date the court issues an order approving the Plan, or when receiving capital increase / new credit line, in compliance with the conditions set forth in the plan, in an amount sufficient to continue the business."