Nok Air's pre-tax losses deepened in the third quarter to Bt2.59 billion ($86 million), from Bt482 million in the year-ago period.
The Thai low-cost carrier attributes its poorer financial performance to the Covid-19 pandemic, while new accounting standards and the liquidation of subsidiary NokScoot were also contributing factors.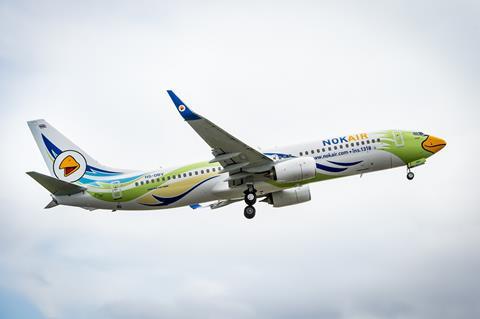 In the recently concluded quarter, Nok's passenger and service revenues were down by 47.5% to Bt1.43 billion, while the costs of passenger and services increased nearly 48% Bt1.56 billion.
In the three months ended 30 September, the airline cut ASKs by 45.2% year-on-year, while RPKs fell 58.8%. Passenger yield increased 24.7% to Bt2.22 and load factor was down by 24.9 percentage points to 64%.
For the nine months ended 30 September, Nok posted pre-tax losses of Bt4.65 billion, compared with Bt1.39 billion in the corresponding nine months of 2019.
During this period, passenger and service revenues declined by 48% year-on-year to Bt4.76 billion, while the associated cost was down by 43% to Bt5.6 billion.
ASKs in the nine months ended 30 September were cut by 44.8% year-on-year while RPKs were down 53%. Passenger yield increased 7.33% to Bt2.05 and load factor slipped 18 percentage points to 71.6%.
As at 30 September, the group had Bt1.28 billion in cash and cash equivalents, versus Bt1.23 billion on 31 December 2019.
Nok also disclosed that on 7 October, leases on two of its aircraft were terminated early "because the company could not comply with the conditions as specified in the aircraft lease agreements".
Nok ended the third quarter with a fleet of 22 aircraft, including 14 Boeing 737-800s and eight De Havilland Canada Q400s.
Earlier this month, a Thai bankruptcy court greenlighted Nok to restructure under a business rehabilitation process, the same bankruptcy protection compatriot Thai Airways was approved for in September.
"During this period, the company is able to continue its necessary activities for operation as usual in order to enable the company to continue as a going concern for at least 12 months from the date in the statement of financial position," Nok states.
"However, the company's ability to continue as going concern depends on the creditors' approval of the rehabilitation plan as well as the successful implementation of the rehabilitation plan."