Estonian carrier Nordica has begun operating flights under its own AOC and IATA code for the first time.
The airline says it will initially focus on winning contracts to provide public service obligation (PSO) flights in Europe, noting that tenders for such contracts have been increasing as air travel recovers from the pandemic and established carriers retreat from unprofitable routes.
"We're taking part in quite a number of other European procurements, and if we win them we'll be operating the routes using our own aircraft and crews," explains Nordica chief commercial officer Deepak Ahluwalia.
Nordica's first regular operations under its own steam are Gallivare-Arvidsjaur-Stockholm services in Sweden under a recently won PSO contract, which it begin flying on 1 August using Bombardier CRJ900 jets.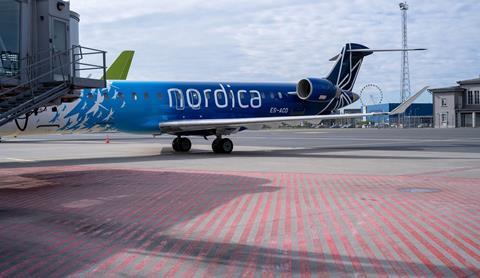 Nordica's charter flights will also be operated under the airline's new code, as will "future regular flights out of Tallinn once the market has recovered from the pandemic and demand for flights out of the Estonian capital reaches the required level", the airline says.
For now, Nordica chairman Erki Urva insists that "the route procurements taking place outside of the country don't negate direct flights from Tallinn", adding: "Quite the reverse: they're providing us with income to operate that doesn't rely on ticket sales or how full our flights are… helping us get by in the crisis."
Nordica previously operated own-brand flights out of Tallinn – albeit under the codes of airline partners – but suspended those operations in October 2019, citing cost pressures resulting from competition and overcapacity. At that point, commercial risk on flights from Tallinn to Stockholm, Brussels and Warsaw transferred to Nordica's partner, LOT Polish Airlines, while it continued to provide capacity through subsidiary Xfly.
The carrier's recent shift in strategy towards operating its own flights follows a turbulent 2020, which saw a desperately needed injection of funds by the Estonian government come with conditions attached regarding its future direction, including a requirement to merge two Nordica subsidiaries – capacity provider Xfly and lessor Transpordi Varahaldus – into the parent business and for it to adopt a renewed focus on providing direct links from Tallinn to European destinations.
Nordica – which is also known as Nordic Aviation Group – consequently reached an agreement to acquire LOT Polish Airlines' 49% share in Xfly, which the latter had taken in 2016, at the end of 2020.
In taking back full control of Xfly, Urva cited the importance of the business having "the freedom to make quick decisions ourselves if we need to – which is vital considering how much the coronavirus crisis has shaken up the aviation market".
Xfly continues to provide air services to LOT, SAS and other contract partners.
Nordica lists its group fleet as including 10 CRJ900s, two CRJ700s and seven ATR 72s.
Estonia established Nordica in late 2015 as a successor carrier after the collapse of Estonian Air.