Estonian carrier Nordic Aviation Group has brought in consultancy firm Knighthood Global to carry out a restructuring, in an attempt to turn around losses after supply chain issues hit its revenues amid rising costs.
Knighthood Global, an aviation consultancy chaired by former Etihad Airways Group chief James Hogan, has this month begun a six-month consultancy to review operations and the cost structure at the company.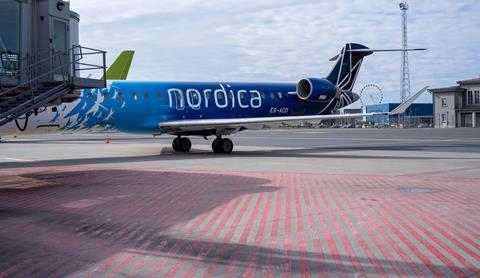 Nordic Aviation Group was established in 2015 after the collapse of Estonian Air, and operates the Nordica brand and regional capacity provider Xfly, which it took full control of in 2020. Long-standing chief executive Jan Palmer stepped down at the end of last month and former Air Seychelles chief and Etihad executive Remco Althius – who is heading the turnaround team – has been named chief executive.
Nordic Aviation Capital chairman David O'Brock says: "In the past few months, the economic situation of Nordica has deteriorated sharply, and the company's revenues have turned out to be considerably lower than expected. In turn, the costs significantly exceed revenues.
"The situation in the aviation market is very difficult – there's a delay in leased aircraft with which Nordica is supposed to service its clients, there is a deficit in both workforce as well as equipment; the costs of all inputs have risen. All those aspects have turned Nordica's business on to a path of loss."
It also cites "an overly optimistic" expansion strategy adopted late last year as negatively affecting the carrier's financial situation.
Preliminary figures show Nordica lost €7.2 million ($7.9 million) over the first six months of the year on revenues of €54.9 million.
"The board expects the turnaround team… to make detailed suggestions for turning the company on to the path of profitability in the nearest future, latest by the end of September," O'Brock adds.
"We expect tangible results, including constantly positive cash flow, already in the coming months."
The group generated revenues of €104 million in 2019 and flew 351,000 scheduled passengers prior to the pandemic. Nordica and Xfly operate around 20 aircraft, across scheduled and wet-lease services, including ATR 72s and Bombardier CRJ900s, as well as three Airbus A320neos.