Hawaiian Holdings, the parent company of Hawaiian Airlines, credits more international flying and ongoing strong demand from North American markets for a 68% rise in revenue during the second quarter.
The Honolulu-based carrier said on 26 July it generated $692 million in revenue for the period ending on 30 June, up from $411 million in the same three months last year.
"Strong demand in our domestic markets has been joined by an encouraging recovery from our international gateways in the second quarter," says Hawaiian Airlines chief executive Peter Ingram. "As we move into the summer travel peak, every indication suggests a continuation of these positive trends."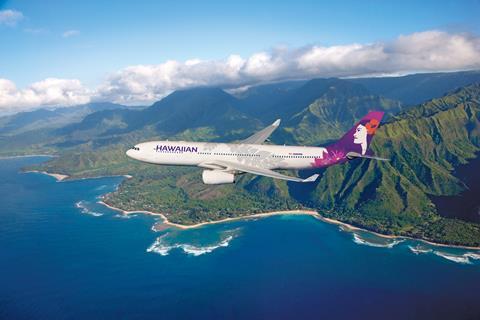 Still, the company lost $36.8 million in the second quarter. That improves on Hawaiian's $6.2 million loss in the same period of 2021, which included the benefit of federal payroll support. Without federal aid and other special items, Hawaiian would have lost $74 million in the second quarter of 2021.
In the most-recent quarter, Hawaiian operated 87% of its 2019 capacity. Capacity to North America was 115% of 2019 levels, but only 80% and 31% on intra-Hawaii and international routes, respectively.
During the period, the company said it would reinstate flights to Auckland and Tokyo, and increase seasonal flights to Osaka and Seoul.
With many countries in Asia-Pacific slowly dismantling Covid-19-related travel restrictions, demand for travel seems set to bounce back quickly, Ingram says.
"As in North America, with restrictions incrementally easing, consumers in international markets are showing strong interest in visiting Hawaii," he adds.
The most important overseas market for Hawaiian and the island archipelago's economy is Japan, which continues to cap numbers of arriving passengers – discouraging flights from overseas.
Hawaiian expects those caps to ease toward the end of 2022, or be lifted altogether. When they do, the airline's executives expect a surge in demand from Japan.
"We are still operating a fraction of what we were doing before," Ingram says. "That's where the growth is coming on international as we look forward to the end of this year but more important, [in] 2023."
For the third quarter, the airline expects capacity to be about 5-8% lower than it was in pre-pandemic 2019, "mostly driven by the delay of the full restoration of its Japan network".
Total revenue is expected to "sequentially improve from the second quarter" and Hawaiian sees sales coming in between 3.5% lower to 0.5% higher than during the third quarter of 2019.