US start-up carrier Northern Pacific Airways plans to rebrand itself as New Pacific Airlines rather than fight a trademark lawsuit.
The Anchorage, Alaska-based carrier said on 8 September that the name change will be effective upon approval from federal regulators and that its operations will "proceed uninterrupted".
"This decision is in response to pending trademark litigation and is the right strategic move for our business, customers, the communities we serve, and most importantly, the more than 400 employees of our company," says Rob McKinney, the airline's chief executive. "New Pacific's updated name symbolises our brand's bold and decisive pivot."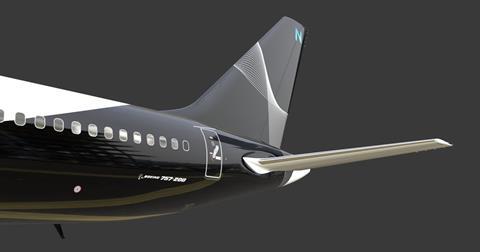 BNSF Railway reportedly brought the lawsuit to protect the trademark of one of its predecessors, Northern Pacific Railway, which merged with other lines in 1970 and eventually became BNSF.
New Pacific Airlines did not comment further on the trademark litigation case.
The airline currently uses one Boeing 757 for thrice-weekly flights between Los Angeles-area Ontario International airport and Las Vegas, catering to leisure travellers seeking to avoid driving between the two popular vacation destinations.
Cirium fleets data show that the carrier has three additional 757-200s in storage.
Originally intending to launch early in 2023, the carrier's first passenger flights were pushed to July due to incomplete regulatory approvals.
The start-up had planned to operate flights across the Pacific Ocean, using Anchorage for optional stopovers – much like Icelandair uses its headquarters in Reykjavik for transatlantic flights. But those operations have yet to take off.
McKinney told FlightGlobal in July that he still hopes to launch flights from Anchorage to Japan and South Korea in 2024, and that the airline also intends to launch charter and ACMI (aircraft, crew, maintenance and insurance) operations.
New Pacific's website advertises charter flights starting at $14,000 per flight hour.