The Federal Aviation Administration has issued Northern Pacific Airways an air carrier certificate, clearing the way for the start-up airline to begin passenger flights later this week.
The US regulator confirmed on 10 July a tweet from last weekend in which Northern Pacific's chief executive Rob McKinney said the airline had "passed every test" from the FAA. "Passed and exceeded all expectations," he wrote on 8 July. "Ravn Alaska as Northern Pacific Airways is authorised as a global airline flying large jets."
The airline had aimed to begin flights between Ontario International airport in the Los Angeles metropolitan area and Las Vegas last month. Those flights were delayed, however, due to incomplete FAA approvals.
McKinney tells FlightGlobal on 10 July that those flights will now launch on 14 July.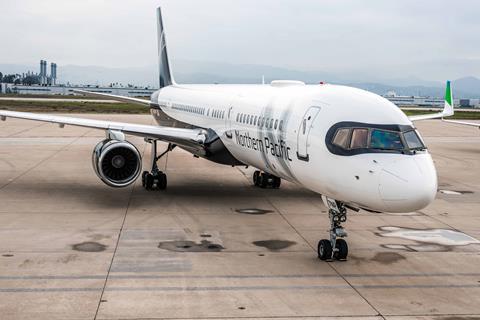 "We are sold out for this first flight," McKinney says, adding that the airline has published its schedule through the end of September. Currently the only other airlines that connect the two airports are low-cost carriers Southwest Airlines and Frontier Airlines.
The Northern Pacific connection is scheduled to leave Ontario, located about 58mi (93km) northeast of the region's primary airport, Los Angeles International, on Fridays at 14:00 local time, arriving in Las Vegas an hour later. A return flight is scheduled to leave Las Vegas at 14:00 on Sundays, arriving into Ontario at 15:00 local time. The flight times appear to cater to customers from the Los Angeles metropolitan area looking to spend a weekend in Las Vegas – a popular trip. The distance between the two airports is listed as 197nm. By car, with traffic, that one-way journey can take 4-5h.
"We believe there is almost an infinite amount of seats that you can throw at that market," McKinney says.
According to Cirium fleets data, Northern Pacific has four Boeing 757-200s in its fleet, one of which is noted as in-service; the other three are in storage. It took delivery of the first aircraft 17 months ago.
McKinney says the second of the four airframes will enter service at the end of this month, and the third "by mid-August".
The company has also had "lots and lots" of requests for charter operations and ACMI (aircraft, crew, maintenance and insurance) operations. The first of those will begin "as early as August".
"That [flying] might take some precedence in the beginning," he says.
Northern Pacific had initially intended to launch operations last year, but was delayed several times. It is wholly owned by Float Alaska, which acquired fellow regional carrier Ravn Alaska's operations out of bankruptcy in 2021.
McKinney's plans for the fledgling airline's business model include replicating across the Pacific Ocean what Reykjavik-headquartered Icelandair does over the Atlantic. For years, the Icelandic carrier used its island base about midway between North America and Europe to offer low-fare flights between the continents, with the option for stopovers. Northern Pacific has said it intends to fly from Anchorage to South Korea and Japan in a similar fashion.
McKinney still hopes to fly those routes next year, and the company has applied for permission to operate routes through Anchorage in "several countries". In addition to those two countries, he also mentions Canada and Mexico.
The Russian attack on Ukraine in February 2022, and subsequent closing of Russian airspace to US carriers delayed those transpacific plans, he says, as the airline's aircraft now require extended twin-engined operations (ETOPS) certification.
"We're planning, if nothing changes on the political status quo, probably by Q2 of next year we should be able to have some kind of solution in place for the trans-pacific [routes]," he says.
"We were kind of overwhelmed by how much response we've gotten from the charter and ACMI [business], so that probably will keep us busy up until we can get the trans-pacific route started," McKinney adds.