Start-up US airline Northern Pacific Airways has almost completed a $6 million upgrade of the terminal space it is leasing at Anchorage International airport in Alaska.
The $6 million revitalisation project in the North Terminal – which includes a 50-seat mini IMAX theatre and a 2,800sq ft (260sq m) bar and lounge area, Northern Pacific says – was rolled out during a 24 October preview event. The airline's work on the terminal is ongoing.
"It's really exciting to watch the progress we are making in bringing Alaska to the forefront of international travel once again," says chief executive Rob McKinney. "Anchorage used to bustle as an international hub with travellers connecting from Asia, Russia and the Lower 48 [states] alike."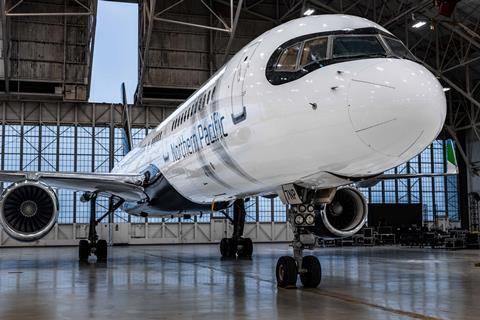 Northern Pacific intended to launch operations in the third quarter of this year but now expects to begin flying passengers in spring 2023, it says. The airline is wholly owned by Float Alaska, which acquired fellow regional carrier Ravn Alaska's operations out of bankruptcy in 2021.
The fledgling long-haul airline intends to offer flights connecting Anchorage to cities in Korea, Japan and the USA. The idea is modelled on Icelandair's low-cost transatlantic flights that have the option of stopovers at Keflavik International airport to break up journeys between continents.
"We want to create a hub here in Anchorage, to replicate what Icelandair has done successfully in Keflavik," McKinney told FlightGlobal in 2021. "We think we have a unique opportunity for that kind of hub on the other side of the world. Anchorage is the geographic midpoint on a Great Circle routing between Asia and parts of North America."
The airline's fleet of Boeing 757-200s will be held in California until operations begin in the spring, Northern Pacific says.