Scandinavian airline Norwegian is hoping to benefit from improved economies of scale during 2022 after a 'disappointing' first quarter of the year.
"The year to come is going to be a cost game," the low-cost carrier's chief executive Geir Karlsen said during an earnings briefing today. "Our aim is to get CASK [cost per available seat kilometre] down to below NKr0.40 – that's when we are really starting to get competitive… and closer to the best guys in class."
In April, Karlsen notes, Norwegian operated at a CASK – excluding fuel – of around NKr0.45, having averaged NKr0.55 in the first quarter.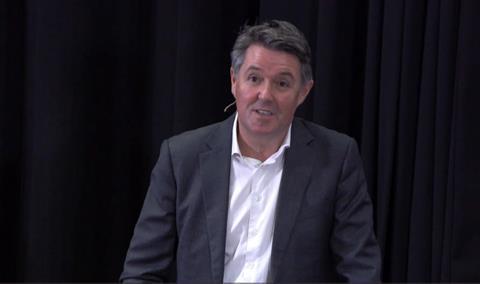 "We can probably run 20-30 more aircraft with the same fixed-cost size," he states. "We will have a drastic reduction in CASK going into the peak season."
Norwegian is operating around 62 jets in mid-May and intends to be flying 70 as the summer peaks, Karlsen explains.
And amid resurgent demand in the carrier's leisure-focused markets, he cites a "very healthy development in yield and load" in recent weeks, with load factors "steady in the area of 80%", despite the carrier ramping up capacity as seasonal travel demand improves.
"In certain markets for late June into July, we are selling tickets at a 40-45% higher yield than in 2019," Karlsen says. "As a whole we are 30% higher than we did in the same period in 2019."
High fuel prices are a concern, he cautions, but are being offset to a degree by the higher ticket prices.
"If fuel prices stay at high levels you might see ticket prices staying at the high levels they are today, or even getting higher as the loads are rising," Karlsen states.
His comments came as Norwegian reported an operating loss of NKr849 million ($86 million) for the three months to 31 March, which it describes as "seasonally the weakest quarter of the year".
Karlsen says Norwegian cut its first-quarter 2022 capacity in December 2021, as it braced for the impact of the Omicron variant of Covid-19.
"We reduced capacity by 26% compared to what we planned for," he recalls. "It was meant to be 10% higher than Q4 but ended up 16% lower.
"If we hadn't done that, the losses in the first quarter would have been in the area of NKr700 million higher," he estimates.
Crucially, despite Norwegian's first-quarter loss, "we have more or less the same liquidity position coming out of the quarter as we had in the fourth quarter of 2021", Karlsen states.
The carrier started the period with cash and equivalents of NKr7.7 billion and ended it with NKr7.5 billion.
That is an important detail for Karlsen, who reiterates his belief that Norwegian has historically absorbed unacceptably high cash burn in winter.
"If you are going to deliver a good result at this company, it is all about the winter," he says. "Everyone can make money in the summer.
"We have lost too much money in the past. We are very close now to finding a solution on that."
Among its actions to address that issue, Norwegian will moderate its winter capacity via new working arrangements for its crew and power-by-the-hour deals on some of its leased jets, while also seeking to reduce its costs further by owning a proportion of its fleet outright. It is also planning to complete more heavy maintenance of its aircraft during the low-demand months.