Norwegian's first-quarter losses have widened significantly to NKr3.28 billion ($331 million) and the company remains in "hibernation mode", in the hope that its recent financial restructuring and state-aid lifeline will enable it to have a future.
Having been forced to convert NKr12.7 billion of debt into equity to access vital government funding – a move that has put creditors firmly in charge of its destiny – the Scandinavian budget carrier aims to gradually "re-emerge" in a slimmed-down form from the second quarter of 2021.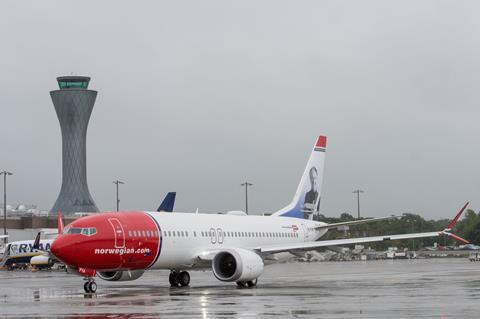 Norwegian says it took "drastic measures to preserve liquidity" as the coronavirus pandemic took hold. Just seven of the 147 aircraft it had at the end of March remain in operation, 80% of its staff have been temporarily laid off, and more than 4,000 pilots and flight attendants were axed when the airline's four crew subsidiaries in Denmark and Sweden filed for bankruptcy in April.
The carrier reported on 28 May that its pre-tax loss for the first quarter of 2020 had worsened by 66% compared with the same period last year. Norwegian's operating loss widened by 43% to NKr2.08 billion and revenue dropped 19% to NKr6.51 billion. The airline's ASK capacity was cut by 35% and passenger numbers declined 37%.
"The coming months will be challenging for Norwegian and the industry, but our goal is to ensure that Norwegian has a strong position in the future airline industry with a clear direction and strategy," states the airline's chief executive Jacob Schram. "As soon as the world returns to normalcy, we will be prepared to return with improved service to our customers."
But the carrier acknowledges that the long-term impact of Covid-19 on its operation is "highly uncertain" and dependent on various factors. "The situation is evolving rapidly, and it is unclear how the virus will continue to develop or when the airline industry, and thus the company, will see a recovery to baseline levels," says Norwegian.
Bernstein analyst Daniel Roeska describes Norwegian's first-quarter financial results as "worryingly opaque". He expresses concern that its net debt was NKr5 billion greater than a year ago, "as cash continues to flow out of the business". The carrier's net debt as of 31 March stood at NKr66 billion, since which time it has converted NKr12.7 billion of debt into equity and secured a NKr 3 billion state-guaranteed loan package from the Norwegian government.
"With no cash-flow statement or balance sheet at Q1 (we normally get one), and no information about the rate of cash burn (unlike other airlines), the worry must be that this would paint a bleak picture of liquidity, and we would not be surprised if current resources could run out at some point during Q3," writes Roeska in a research note.