Restructuring low-cost carrier Norwegian aims to stick with a scaled-back version of its long-haul business when it moves out of the hibernation phase it has been in since the coronavirus crisis hit.
While the airline continues to work on financial restructuring to secure its future – and today confirmed it would need further funding next year to see out the crisis – Norwegian has been formulating a new business plan.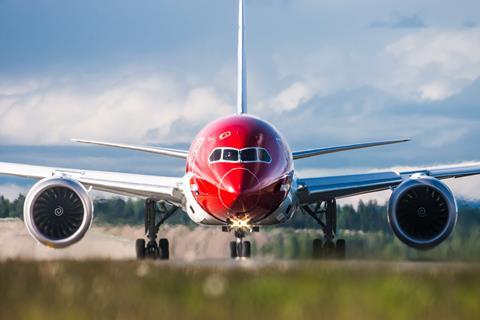 "When we entered into the hibernation phase we had two priorities," says Norwegian chief executive Jacob Schram, speaking during a briefing at which the airline disclosed a first-half loss of NKr5.3 billion ($595 million).
"Number one was to do the financial restructure, with the aim of coming through the 4 May extraordinary general meeting, which we did. That was incredibly important.
"The second priority we had was to develop a strategy and business plan with a blank sheet approach to prepare for the new reality and for a company that is more [geared] towards profitability than growth," he says.
"We will really focus on the Nordics, but we also believe in the long-haul low-cost model," Schram says of the network that will drive the business.
"We see the Nordics as a core area we want to continue to do as we have done. We have a good position there, and we want to protect that and grow there," he explains. "At the same time during Covid, we follow each route very closely and you will see a lot of situations where we will try out new routes – and if it doesn't succeed, we will close it down again. I think that will be natural and others will do the same."
The airline has also pioneered the long-haul low-cost model, particularly on transatlantic routes. While that remains a relatively new concept – and the airline had been forced to rethink some of its network after mounting financial challenges even before the crisis – Schram remains confident in this part of the business.
"We believe in the model that was created for long-haul low-cost, but we see we need to scale it back to get profitability in it," he says.
"We want to prove the long-haul low-cost model – we want to scale back with fewer [Boeing] 787s – but we also see in the portfolio we had before Covid, that we had several routes that are more than profitable. So we strongly believe in that model."
That leaves the airline with the challenge of reducing its fleet of 787s at a time where the collapse in long-haul travel leaves little demand for aircraft.
Norwegian chief financial officer Geir Karlsen says. "When it comes to the 787s, that is a difficult task – at least in this market – to divest as many as 15, 16, 17 of them."
The carrier operates 37 Dreamliners – 26 of which are leased. That adds a further complication to the situation as Norwegian's lessors are now equity holders in the airline following the debt-for-equity restructuring in May which paved the way for the carrier's survival.
"We are discussing already alternatives with these [lessors] where we have to find a solution to take down the capacity on long-haul," says Karlsen. "It's not going to be easy, it's a very different market compared to the short-haul market with regards to liquidity and how easy it is to divest, but we need to find a solution."
At the end of June Norwegian cancelled orders for 97 Boeing aircraft, including examples of the troubled 737 Max and the 787, and is claiming compensation for financial losses related to the two types. It is also terminating the related GoldCare service agreement.
"We have, as a result of not being able to negotiate an acceptable deal with Boeing, decided to file a claim against Boeing and that was done in late June," Karlsen says. "Time will tell how this case is developing in the next weeks and months."
NORWEGIAN TO OPERATE 20-30 AIRCRAFT THIS WINTER
The striking of power-by-the-hour agreements with lessors has enabled the carrier to keep costs down while much of its fleet remains grounded. Norwegian had operated 168 aircraft prior to the crisis, but has returned to service only a small portion of its fleet so far.
The airline operated seven or eight during the peak of the crisis, increasing this to 15 from the start of July as flight restrictions began to be lifted. It is operating 25 aircraft today.
"I think in the winter we will be between 20 and 30 aircraft," Schram says. "It is very hard to predict, it all depends on the travel restrictions from the government, whether it is closer to 20 or 30. And then we will have a gradual ramp-up through the summer towards 2021, again depending on how wave two develops and the vaccine. But we are optimistic and believe summer next year will be better than it was this year."
Karlsen notes that forward booking patterns are closely linked to the various travel restrictions. "When Spain turned into a green territory – we saw it in bookings overnight. And we saw the same when Spain turned into a red country, we saw a lot of cancellations," he explains.
"The way we have been managing this is to ensure the aircraft we put in the air make a positive contribution," Karlsen adds. "What we are seeing is domestic in Norway is relatively good, the same in Sweden and Denmark with domestic, but we are suffering in Nordic to Europe, which has been fluctuating [with] the travel restrictions."
That stuttering demand environment has added further pressure for the airline to secure more funding to survive the winter – even after the debt-for-equity restructuring, share issue and state-guaranteed loans it has already secured.
"We will in the fall, complete phase three of the financial restructuring," says Schram. "We have secured cash through the rest of this year. I have been very clear, we will need more if Covid continues – which it has done. We will need more financing to come through the winter."
Karlsen would not put a number on the liquidity the carrier needs to raise – noting it also depends on uncertainties such as how profitable next summer is. "We are looking not only into 2021, but also into 2022. We have to build a plan that takes us into 2022," he says.
Schram adds: "We see three stages in our journey going forward beyond Covid-19. We want to compete in the future on mobility towards 2030. To do that we need to be a good and profitable organisation within the aviation industry in 2025.
"But first it is licence to operate and that means coming through the winter and coming towards to the summer next year and building the company."