Scandinavian low-cost carrier Norwegian is working to introduce flexibility among its air crew to cope better with low-season demand, having established fleet flexibility for the coming winter seasons.
Speaking during an earnings briefing on 28 October – during which the carrier revealed it had been cash-positive in the third quarter – Norwegian chief executive Geir Karlsen said that "we have to make sure we have more flexibility in the low seasons going forward", highlighting a strategic priority for the carrier that he had raised during its previous earnings briefing.
Recently signed letters of intent for 13 more leased Boeing 737-800s solve the problem on the fleet side of the equation, he says, given they come with power-by-the-hour support contracts for the 2021-2022 and 2022-2023 winter seasons.
At the same time, "we have also started the same process on the crew side and I am very optimistic that we will also be able to find solutions together with the unions… that will give us the same flexibility on that side of the business", Karlsen states.
Norwegian does "not plan to take capacity down by more than those 13 aircraft" during coming winter seasons, Karslen says, citing the importance of retaining a year-round presence on key parts of its network.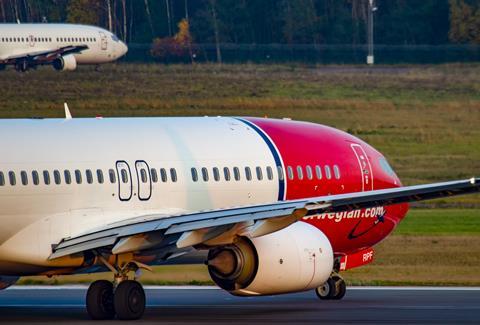 The incoming 737-800s are due to be delivered beginning this year and through the first quarter of 2022, adding to the 51 aircraft of the same type already in Norwegian's fleet. Karslen previously suggested some of the existing fleet are also subject to power-by-the-hour arrangements for the 2021-2022 winter season.
Norwegian is "in negotiations" for further aircraft, Karlsen says, with its fleet expected to be in the range of 67-70 jets by summer 2022. At that level, he notes, Norwegian is close to an aircraft roster appropriate to its fixed cost base, but "I think we will also have to increase that fleet to 80-90 aircraft as soon as possible", he adds.
He confirms that Norwegian will eventually consider taking either 737 Max or Airbus A320neo aircraft, with the flexibility to swap some of the incoming 737-800s for those types.
Karlsen's comments came as Norwegian announced its available cash rose by NKr160 million ($19 million) from the end of the second quarter to reach NKr7.64 billion on 30 September 2021. Karlsen says it remains at that level in late October.
Norwegian reported operating revenue of NKr1.93 billion for third quarter, an improvement from NKr1.29 billion in the same three months of 2020. Its operating loss of NKr295 million was vastly reduced from the NKr1.26 billion loss it reported for the third quarter of 2020, as it continues to work to reduce costs.
A net profit of NKr169 million compares with a NKr980 million loss for the third quarter of 2020.
Noting that the period's results included some one-off impacts from the restructuring process still under way at the carrier, Karlsen expresses confidence that Norwegian's financial position is strong enough for it to endure the coming low season and enter summer 2022 in a favourable position.
He also cautions, however, that while there are positive indicators, "we are still affected by the pandemic" when it comes to passenger demand.
"It is fair to say we are still not happy with the bookings and the yield, of course, but it's definitely going in the right direction," he states. "The market is to some extent back, but it's not really fully back compared to what we saw, for example, in 2019."
Denmark has been the best performer among Norwegian's markets, Karlsen says, largely because the country's Covid-19 restrictions were eased relatively early. But Norway was only at 55% of pre-crisis capacity in September.
Rising fuel costs are also a concern, but Karlsen notes that the strong Norwegian krone will offset some of that impact.
"Now it's all about believing in the market and the fact that that will come back," he says, adding: "The competition is tough obviously, but we are very prepared to compete in the markets we are operating in."