The aviation industry will only meet its net-zero CO2 targets if the OEMs and oil companies join airlines in a collective effort to overcome the related challenges, according to Qatar Airways chief executive Akbar Al Baker.
"Net-zero emissions will not only come from airlines," Al Baker said during a Paris Air Forum event on 21 June. "It has to be a group that works together, and the most important [members of that group are] the OEMs and the oil companies."
In the airline chief's view, "the oil companies are not investing enough in alternative fuels, because they have invested so much money into oil fields that they feel if they get into other sustainable fuel, they will lose those investments and the return on those investments".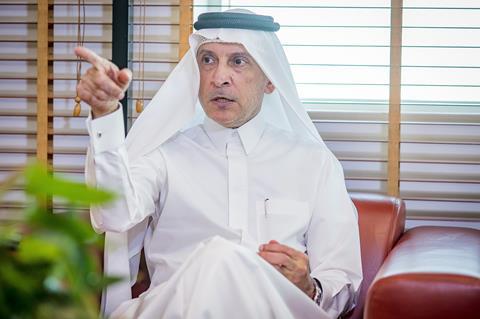 And the OEMs need to "introduce technology in an aeroplane that will be… cost-effective for the airlines in order for them to be able to use [sustainable fuels] and meet the targets that we are putting for ourselves".
Al Baker notes that "when there is an effort by the OEMs" – the engine and aircraft manufacturers – "they could get aircraft out like the A320neo, like the A350, like the 787, which reduce fuel consumption by between 15% and 18%".
He suggests it is therefore unfair that airlines alone are often "singled out" as the "most-polluting industry".
While he believes that it is an airline's "duty" to work towards sustainability targets, "it should be something that everybody in the industry should do together", he explains.
"Otherwise it will be really difficult for the airlines to [achieve net-zero targets]."
Speaking at the same event, IATA director general Willie Walsh concurred with Al Baker's views, describing it as "unacceptable" that people "look at the airlines and say 'guys, you've got to pick up the bill, you've got to pay the tab'".
Walsh says the airline industry is "not going to be doing that", because "everybody [has to] play their part, and that means everybody has to raise their game significantly".
He adds: "We need everybody to make a commitment to the future of this industry and the future of the environment."
On the development of hydrogen-powered aircraft, both Walsh and Al Baker agree that such a fuel source is only likely to be a solution for narrowbody, short-haul flights in the coming decades.
For Qatar Airways, therefore, such technology is likely to have limited use.
"Let us not talk about this story that keeps getting repeated about hydrogen," Al Baker states. "That would be possible, maybe during our lifetimes, but it will not be for aeroplanes for long-haul flights, or aeroplanes that carry a large number of passengers, because the technology that is required I don't think is available today."
Still, of Airbus's commitment to develop the world's first zero-emission commercial aircraft by 2035, based on a hybrid-hydrogen concept, Walsh says: "If they've committed to it, let them deliver on it."